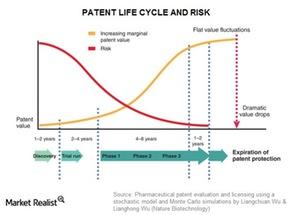 Patents mean big business to big pharma
What are patents?
A patent is an exclusive right granted for an invention. Patent protection means the invention cannot be commercially made, used, distributed, or sold without the patent owner's consent, generally for a period of 20 years.
The pharmaceutical industry is an innovation-dependent industry, and so the intellectual property rights, specifically patents, are much more important in this industry than in others.
Article continues below advertisement
Importance of patents
Pharmaceutical products take a long time to develop. It takes 10 to 15 years on average to develop a new medicine from the early stages of compound discovery through FDA (U.S. Food and Drug Administration) approvals. The effective patent term is short. It starts from the date the drug is registered, which is much earlier than the date the actual drug enters the market.
The average effective patent life for medicines is 11.5 years following commercial launch. Also, the initial investment in R&D (research & development) is high, so the patent rights play a more crucial role in recouping the investments in new drugs. The average cost to develop a new medicine has been estimated at upward of $800 million, according to an analysis conducted by the Tufts Center for the Study of Drug Development.
Patents and revenues
Patented drugs contribute over 70% of total drug sale revenues. The moment a drug goes off patent, companies suffer a noticeable impact on revenues. There was a bumpy ride for the industry in 2011–2012 when 16 major patents expired. This amounted to about $12 billion of 2011 revenues and over $30 billion of 2012 revenues.
In 2014, the total impact of patent expiration on revenues is estimated to be ~$34 billion. In 2015, this amount is estimated to be even higher at around $66 billion. Companies including Teva Pharmaceuticals (TEVA), AstraZeneca (AZN), Novartis (NVS), Allergan (AGN), and Warner Chilcott (WCRX) will all see patents expire on some of their products during 2014–15.
Eli Lilly and Company (LLY), Celgene Corporation (CELG), and Johnson & Johnson (JNJ) combined form 14.54% of the PowerShares Dynamic Pharmaceuticals ETF (PJP).