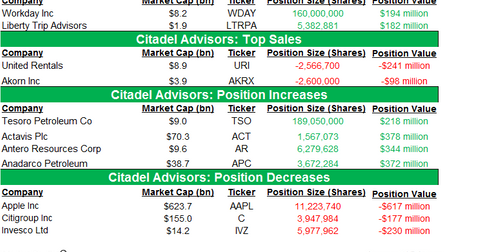 Analyzing Citadel Advisors' positions for 3Q14
By Adam Rogers

Updated
Citadel Advisors' 3Q14 holdings
Citadel Advisors LLC is a financial institution and hedge fund. It's based in Chicago. It was founded in 1990 by Kenneth C. Griffin. It's one of the leading investors in financial markets around the world. Citadel Advisors works to discover and capture new opportunities. Its main intent is to deploy its capital across a diverse range of investment strategies.
Citadel Advisors wants to generate high, risk-adjusted investment results for its capital partners and investors. According to Citadel Advisors' management team, it has some of the most talented employees in the industry.
Article continues below advertisement
The fund manages more than $20 billion in investment capital on behalf of institutional investors and families with high net worth. Citadel Advisors' main activities also include equity and options market making. Globally, Citadel Advisors is one of the biggest firms. It practices order flow internalization. This accounts for a major portion of its revenue.
In this series, we cover Citadel Advisors' top holdings for 3Q14. We'll discuss the major decreases and increases in the hedge fund's major stock holdings. We'll also discuss any new purchases or sales in relevant stocks—according to the 13F filings.
Citadel Advisors' top ten holdings include Apple, Micron Technology (MU), Priceline Group (PCLN), and Baker Hughes (BHI).
Citadel Advisors' new stock purchases include Workday, Inc. (WDAY) and Liberty TripAdvisors (LTRPA). The hedge fund exited positions in United Rentals (URI) and Akron, Inc. (AKRX). Citadel Advisors also increased positions in Tesoro Petroleum Co. (TSO), Actavis Plc (ACT), Antero Resources Corp. (AR), and Anadarko Petroleum (APC). The firm decreased positions in Apple (AAPL), Citigroup (C), and Invesco Ltd. (IVZ).
According to the 13F filings for the third quarter, Citadel Advisors has a market portfolio of over $79 billion.
Citadel Advisors' portfolio size increased from $74 billion in the second quarter to $79 billion in the third quarter.
The hedge fund holds over 7,000 stocks.
The next part in this series will explore Citadel Advisors' new position in Workday, Inc.