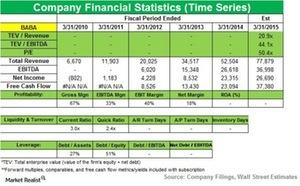 Magnetar Capital's new position in Alibaba Group
Magnetar Capital and Alibaba Group
Magnetar Capital added new positions in Alibaba Group (BABA), TransCanada Corp. (TRP), and Encana Corp. (ECA). The fund's top exits were Covidien Plc. (COV), Lamar Advertising (LAMR), and Yahoo (YHOO). The fund added to its stakes in Shire Plc (SHPG), Exterran Holdings (EXH), and Teekay Corp. (TK). Its top stake decreases were in Williams Companies (WMB), Mallinckrodt Plc (MNK), and American Airlines (AAL).
Magnetar started a new position in BABA in 3Q14. The position accounts for 4.05% of the fund's total portfolio in the third quarter.
Article continues below advertisement
About Alibaba
BABA is the largest e-commerce player in China. It offers consumer and wholesale marketplaces. It also offers cloud computing services.
BABA buys a 15% stake in Beijing Shiji Information Technology
In September, BABA bought a 15% stake in Beijing Shiji Information Technology (SHE). Shiji is a hospitality technology provider in China. BABA bought Shiji for $458.66 million. BABA plans to use Shiji's systems to complement its Taobao travel business and strengthen its position in the travel industry.
Article continues below advertisement
Shares surge due to sales figures on Singles Day 
Recently, BABA's shares increased. The company said that Chinese consumers shopped online on Singles Day. Consumers spent $9.3 billion on Singles Day—November 11. Reports also cited Jack Ma, BABA's founder and executive chairman. He said that Alipay, the company's financial services arm, "will definitely go public." It could see a Chinese listing.
The company noted that during peak Singles Day activity, Alipay processed 2.85 million transactions every minute.
China retail marketplaces GMV up 49%
For 2Q15, BABA's results beat estimates. The company said gross merchandise volume, or GMV, in its Chinese retail marketplaces increased 49% for the quarter. Also, annual active buyers increased 52% year-over-year, or YoY. Alibaba saw 217 million monthly active users on its mobile commerce apps in September. It had $95 billion in mobile GMV for the 12 months ending in September 2014.
Revenue grows, but margins are impacted
Revenue grew 53.7%. However, net income fell 39% due to share-based compensation charges and increased amortization expenses.
The company's non-GAAP (non-generally accepted accounting principles) EBITDA (earnings before interest, tax, depreciation, and amortization) margin fell to 50.5%. This was down from 54.4% the previous quarter. The decline was attributed to the consolidation of newly acquired businesses—UCWeb and AutoNavi, planned investments in new business initiatives, and increased tactical marketing spending during the September quarter.
Diluted earnings per share, or EPS, was $0.20. Non-GAAP diluted EPS was $0.45.
In Mobile penetration: A key metric to watch for in Alibaba's earnings, Market Realist noted last month that while Apple's (AAPL) Apple Pay service will challenge companies in the mobile e-commerce space, BABA sees intense competition from Tencent Holdings (TCEHY).
The next part in this series will discuss Magnetar Capital's new position in TRP.