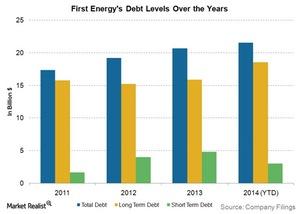 Investors should be cautious of First Energy's rising debt levels
By Matt Phillips

Dec. 4 2020, Updated 10:53 a.m. ET
Total debt
First Energy Corporation (FE) has a total debt of $21.5 billion on its books as of September 30, 2014. Most of First Energy's debt is long-term in nature. First Energy has long-term debt borrowings of $18.5 billion and short-term borrowings of $3.0 billion.
Article continues below advertisement
Increasing debt levels
First Energy's debt levels have been rising in recent years. In the last three years, First Energy' total debt has risen by $4.2 billion, or 24.3%.
Because of First Energy's drop in earnings, the company's dividend payouts have exceeded its earnings since 2011. A major shift toward regulated business required First Energy to invest in its transmission business. So First Energy primarily used its debt to honor its dividend commitment to shareholders and increase its capital expenditure (or capex) to grow its regulated operations.
First Energy's debt compared to the industry
First Energy's increase in debt in recent years has affected the company's debt ratios. First Energy's debt to equity (or DE) ratio is 1.62x. This is relatively higher than the average DE ratio of 1.32x for all companies within the Standard & Poors depositary receipt (or SPDR) Utilities Select Sector (XLU).
At 2.75x, AES Corporation (AES) has the highest DE ratio in the industry. Public Service Enterprise Group (PEG) and Pinnacle West Capital Corporation (PNW) have a DE ratio of 0.80x and 0.75x, respectively. These are among the lowest in the power industry.
The power utilities business is a capital-intensive business. Building up big power plants and laying large transmission and distribution networks across thousands of miles requires a lot of capital. So the debt levels of utility companies are comparatively higher than other industries.