Stay Away From NIO Stock, EV Story Is Losing Steam
EV (electric vehicle) stocks are having a horrible time in 2021 after a spectacular 2020. NIO, the premium Chinese EV maker, rose over 1,100 percent in 2020. Now, the stock is down almost 36 percent in 2021. The drawdown is even deeper from the peaks and the stock is trading at less than half of its peaks. NIO stock could fall more from these levels. EV stocks are finding it hard to justify their valuations.
Article continues below advertisement
There were always concerns about EV stocks' soaring valuations. Companies realized that their stocks had probably run ahead of the fundamentals and went on a stock selling spree. Tesla and NIO issued shares three times in 2020. Even Li Auto and Xpeng Motors issued new shares within months of their IPO.
There were warning signs for EV investors.
Companies going on a share selling spree was a warning sign for investors. In many cases, especially with Tesla, cash isn't immediately needed. Talking of NIO, from battling a survival crisis in 2020, it has ample cash on its balance sheet now. At the end of the first quarter of 2021, the Chinese EV company had $7.3 billion cash on its balance sheet.
Article continues below advertisement
Will NIO survive?
NIO, like Tesla, has more cash than debt on its balance sheet. Having a negative net debt gives NIO a lot of cushion. The company raised a red flag about its ability to continue as a growing concern about a year ago. Thanks to the massive capital raise, NIO won't just survive but will thrive and grow.
Article continues below advertisement
In fact, while markets speculated about NIO's survival in the first quarter of 2020, one overlooked aspect is the backing from the Chinese government. The country made NIO cars eligible for subsidy despite its higher price tag and the Hefei Municipal Corporation bailed out the company in 2020 when its survival was in question.
Article continues below advertisement
To sum it up, survival was never a question for NIO. Now, the company's survival isn't a concern with billions of dollars sitting on its balance sheet.
Outlook for EV stocks
The outlook for electric car companies looks good and the sector is a long-term growth opportunity. The shift from ICE (internal combustion engine) cars towards electric cars is real and is happening faster than many had envisioned a few years ago. However, that doesn't mean that EV stocks are good buys.
Article continues below advertisement
The good old mechanism was to look for GARP (growth at a reasonable price). In 2020, it almost looked like "growth at any price" as investors were looking to pay any premium to get a slice of vehicle electrification story. To sum it up, while EV sales are expected to soar over the next decade, this doesn't make all EV stocks a buy given the high valuations for most of them.
Has the EV bubble burst?
Every bubble has a final straw. In my view, the exuberance towards Churchill Capital IV (CCIV) stock on its rumored merger with Lucid Motors was the last nail in the coffin for the EV bubble. There wasn't a way (even by the generous multiples for EV companies) to justify CCIV soaring to almost $65 even before the merger announcement.
Article continues below advertisement
Then came the rise in bond yields and the sell-off in growth stocks, which dampened the sentiments for EV stocks. However, the biggest factor driving down EV stocks like NIO is rising competition from legacy automakers who were perceived to be nearing extinction by many EV bulls. Tesla CEO Elon Musk has also mocked legacy automakers several times.
Article continues below advertisement
However, most of the legacy automakers have sprung back to life in 2021. From Volkswagen's Power Day to Mercedes' launch of EQS, legacy automakers are back with vengeance. Ford's all-electric F-150 is also on track for a 2021 launch and would add more spice to the competition.
While many people still think that legacy automakers don't stand a chance in the EV market, there's a growing perception that pure-play EV companies like Tesla and NIO don't have a free pass in the market.
Article continues below advertisement
NIO stock could fall more
I would expect NIO stock to fall more from these levels. Even after the crash, NIO commands a market capitalization of over $50 billion. It's expected to post revenues of around $8.8 billion in 2022, which would mean a price-to-sales multiple of 5.7x. Legacy automakers trade at an NTM price-to-sales multiple of below 1x.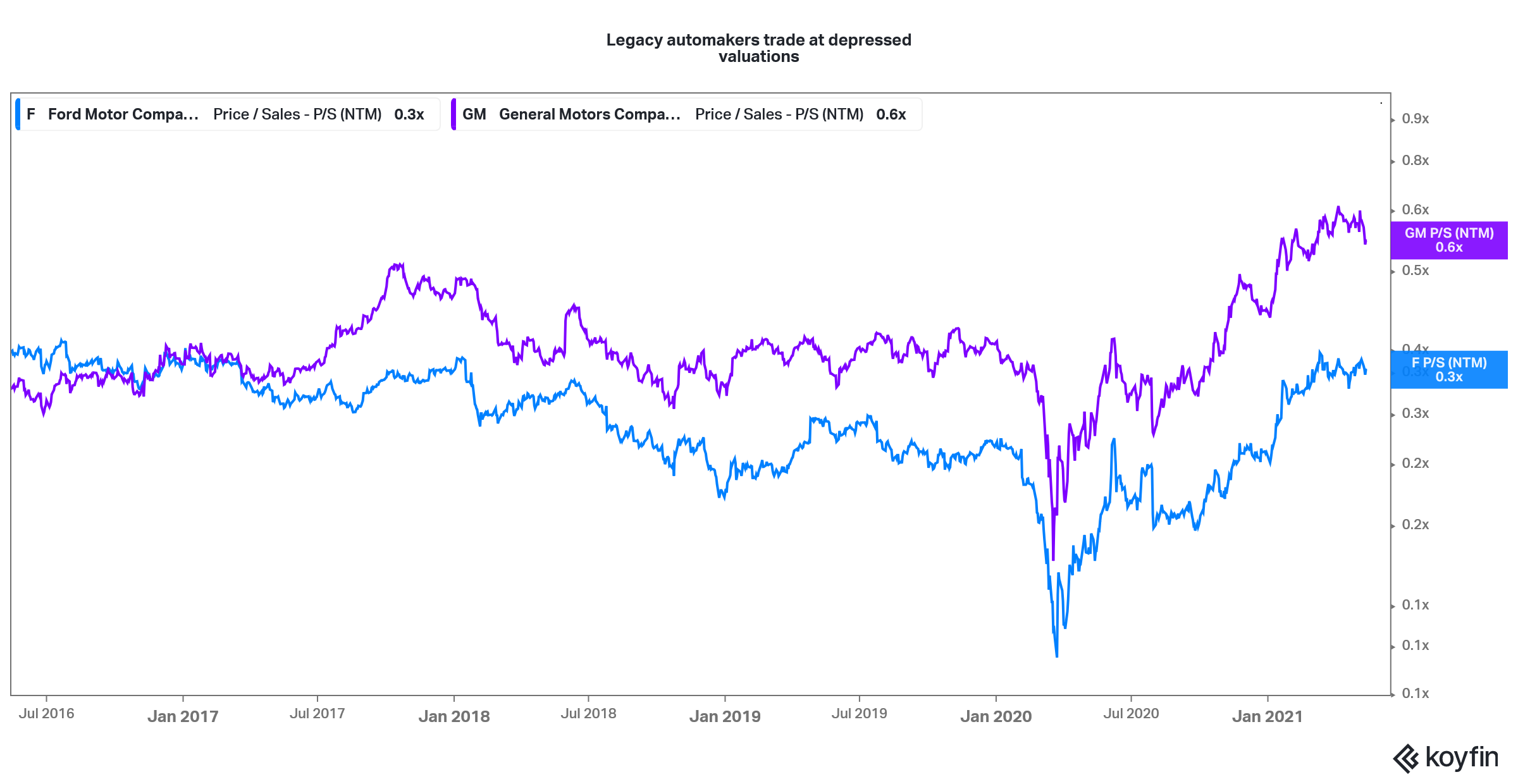 Article continues below advertisement
This isn't to suggest that EV stocks like NIO would trade at similar multiples as legacy automakers. EV stocks are growing their revenues at a fast pace and can't be valued on near-term earnings. However, with competition heating up in the EV market, stocks like NIO could fall more.
Tesla versus NIO
The rapid rise in Tesla stock in 2020 helped other EV stocks rally. Tesla is the gold standard for EVs whether it comes to product proposition or valuation. Tesla stock has also fallen in 2021, which is weighing on other EV stocks like NIO.
Article continues below advertisement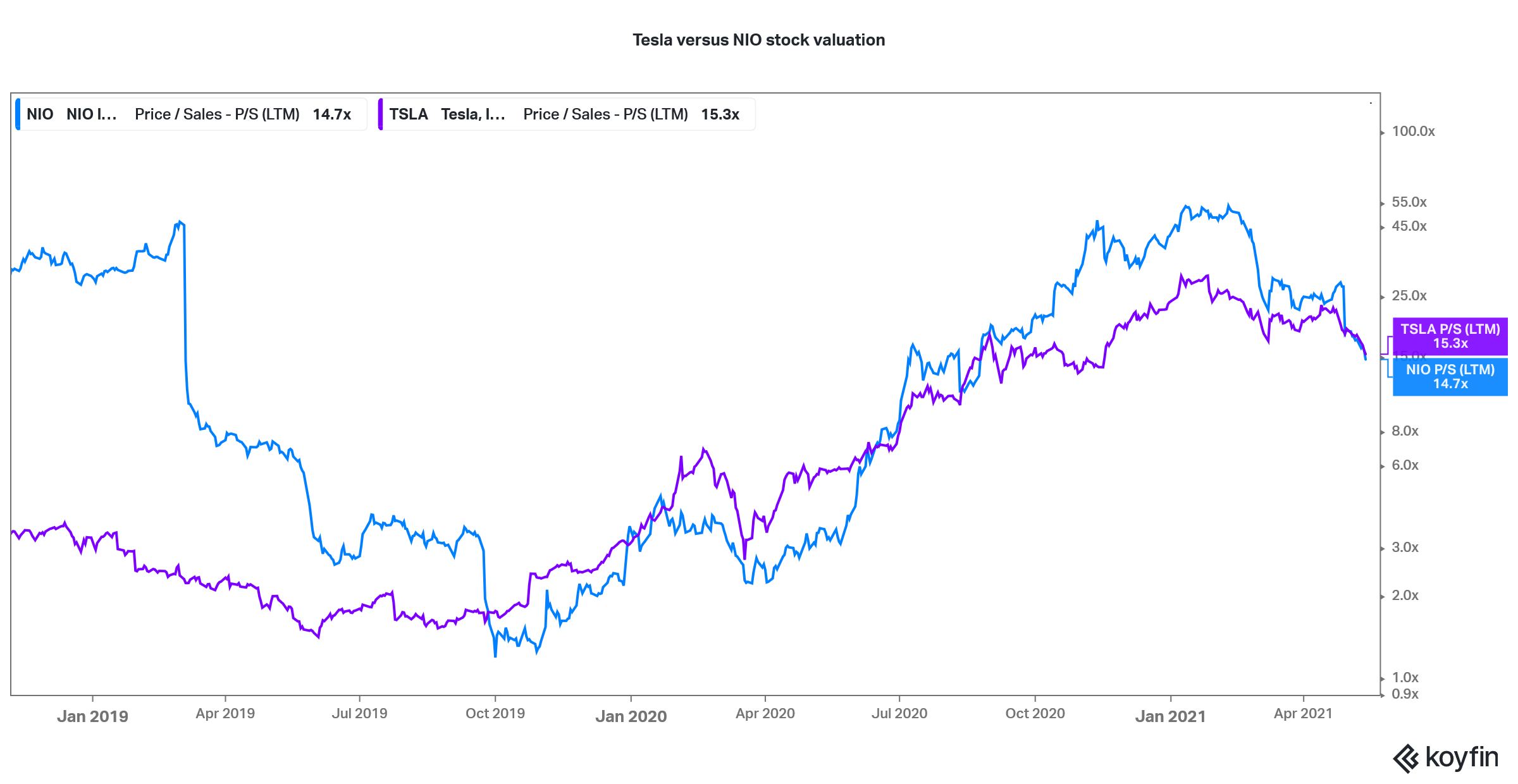 Tesla could still bounce back. Thanks to its vast army of supporters it can trade at elevated valuations for long. The rise in Tesla stock could also be a ray of hope for NIO since the two have tended to trade in tandem over the last year.
All said, given the current macro environment, I would stay away from NIO stock for now. It's a solid company with a good product proposition but the price still isn't right to buy.