Where Is President Joe Biden Spending Thanksgiving This Year?
While Americans gather with family and friends to celebrate Thanksgiving, President Biden has his own plans for the holiday. Where's he spending Thanksgiving?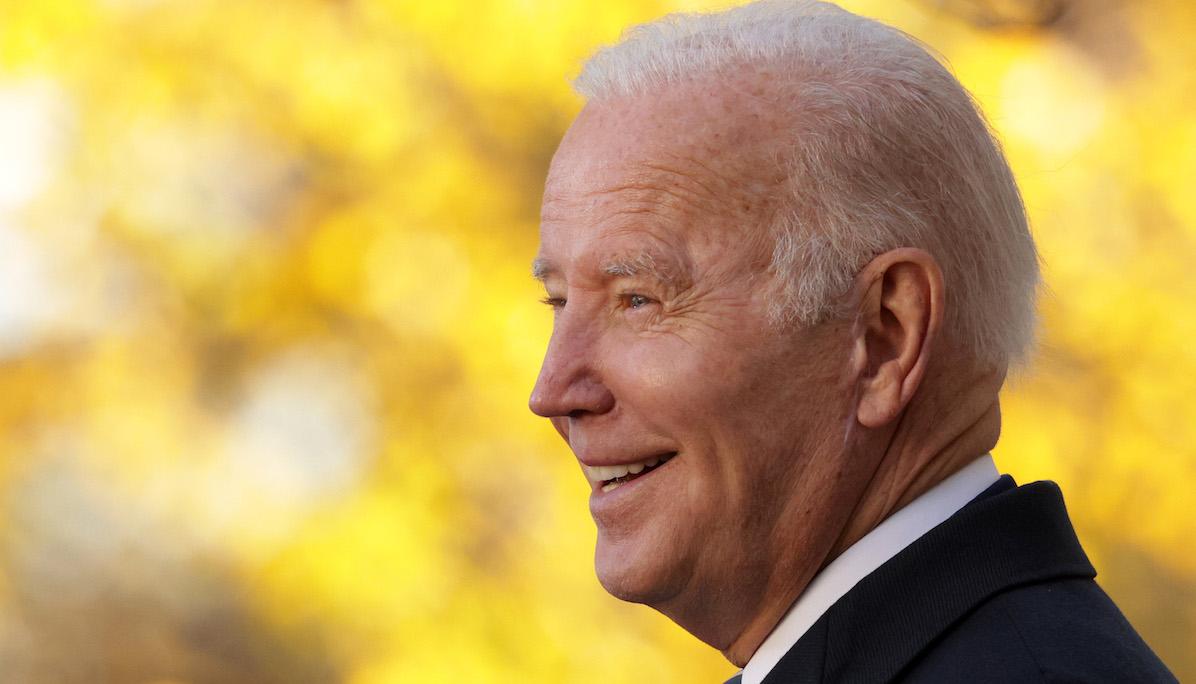 Article continues below advertisement
Article continues below advertisement
However, before the national holiday, Biden has some presidential traditions to uphold, including pardoning a turkey and a "Friendsgiving" dinner with troops and his wife, Dr. Jill Biden.
So, where is Biden spending Thanksgiving this year? Keep reading to find out.
Before Thanksgiving, Biden has a "Friendsgiving" dinner planned with troops.
On Monday, Nov. 21, Joe and Jill Biden will be joined by military members and their families for a Thanksgiving meal at Marine Corps Air Station in Cherry Point, N.C.
According to the White House, the dinner will be hosted by the Robert Irvine Foundation, and the Bidens will help serve part of the meal prepared by the celebrity chef.
Article continues below advertisement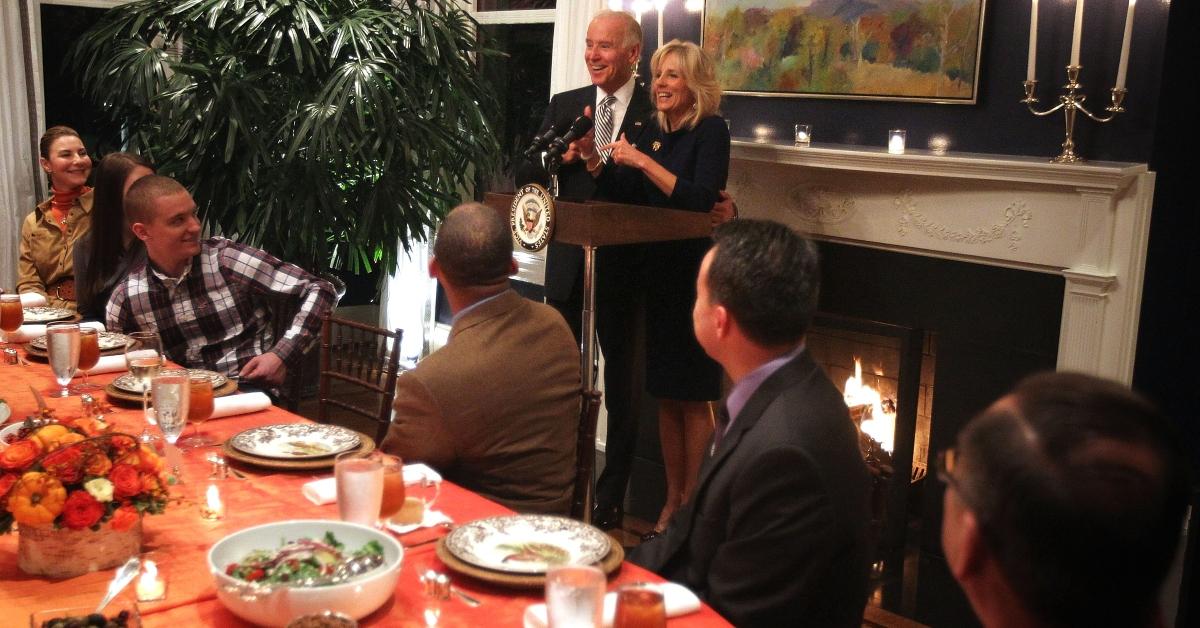 The visit serves as part of Jill Biden's "Joining Forces" initiative, whose mission is to "support those who also serve: military and veteran families, caregivers, and survivors."
"I know what it's like to see that empty seat at the table and... just how hard it is for the families," the first lady said at last year's dinner. "I want to thank all of you. That's why we came to have dinner with you, to say 'thank you' to you. We're so grateful for everything that you do."
Article continues below advertisement
Article continues below advertisement
Joe Biden will also be pardoning a turkey on Nov. 21.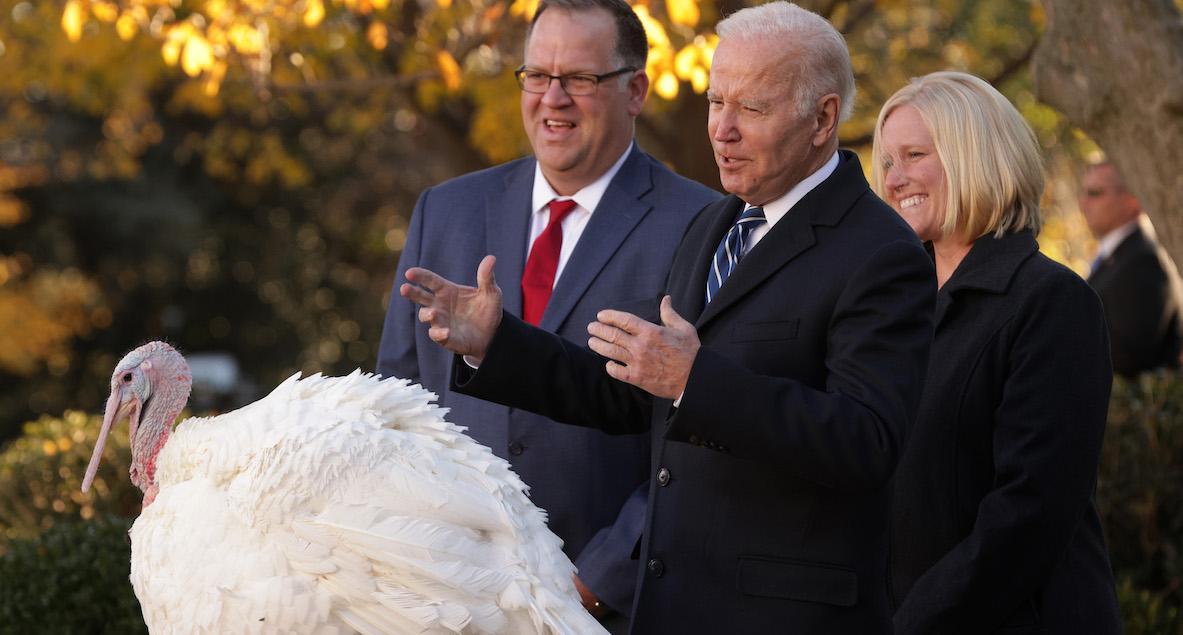 Following the presidential tradition that dates back to President John F. Kennedy who is rumored to have started the pardon trend, Biden will also be pardoning a turkey and its alternate, which were raised on Circle S Ranch in North Carolina.
A naming ceremony will take place for the lucky birds the day before the pardon. Last year, the pardoned turkeys were named Peanut Butter and Jelly.
Where is Biden spending Thanksgiving?
Biden hasn't shared his specific Thanksgiving plans yet, but chances are he's heading back to Nantucket, where his family has been celebrating Thanksgiving almost every year since 1975, according to Reuters.
The Biden family broke the tradition in 2015, following the death of his son Beau from brain cancer, and in 2020, amid the coronavirus pandemic.
Article continues below advertisement
Last year, Biden was also criticized for spending Thanksgiving at private equity billionaire David Rubenstein's compound — especially with rising gas prices and inflation.
"Joe Biden is enjoying his Thanksgiving at a billionaire's home in Nantucket. Regular America? Enjoy the expensive gas and groceries!" tweeted Republicans on the House Judiciary Committee at the time.
Article continues below advertisement
Article continues below advertisement
"As Biden spends Thanksgiving in ritzy Nantucket, food pantries around the country are struggling to serve those most in need because of his rising prices and supply chain crisis," added Ronna McDaniel, chairperson of the Republican National Committee.
In comparison, former President Donald Trump typically celebrated Thanksgiving at Mar-a-Lago, where he was joined by family and dues-paying members who purchased tickets to attend.
President Barack Obama and his family were known to spend Thanksgiving at the White House after volunteering at shelters to serve meals.
Thanksgiving will be extra special for the Bidens this year, coming just a few days after his granddaughter Naomi Biden ties the knot at the White House.