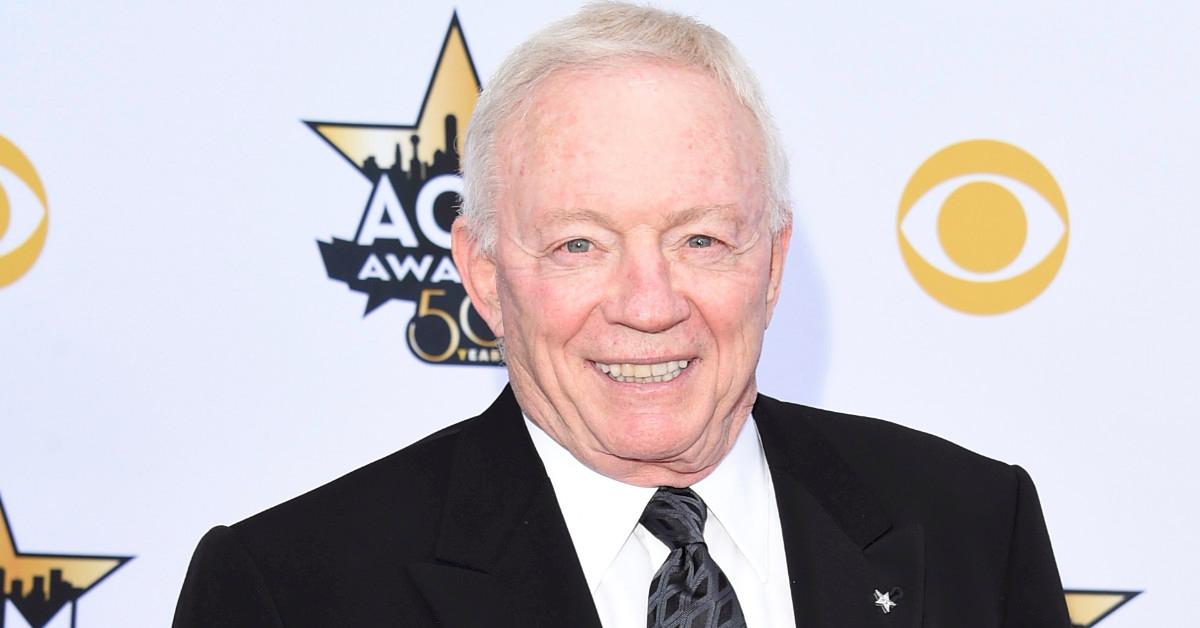 Jerry Jones' $250-Million Yacht Has Cowboys Owner Cruising in Style
By Dan Clarendon

Oct. 15 2021, Published 2:35 p.m. ET
Forget the athletes. The real star of the 2020 NFL Draft was Jerry Jones' yacht, the $250-million Bravo Eugenia. The Dallas Cowboys owner monitored the draft from his yacht.
"Jerry Jones' draft room is on his $250 million super-yacht," according to an ESPN reporter.
Don Van Natta Jr. tweeted at the time, "Now that's a super-flex."
Article continues below advertisement
The same boat, constructed by Dutch superyacht builder Oceanco, made a splash three months later when it dropped anchor outside Elliott Bay Marina in Seattle, Wash. According to Seattle's KING 5, the yacht—named after Jerry's wife, Gene—dwarfed a passing ferry boat while anchored outside the Emerald City.
As Forbes reported, the Bravo Eugenia has also been spotted docked in Miami, Fla.—around the time of the 2020 Super Bowl—and cruising up the Thames River in London, England.
The Bravo Eugenia has sustainability features like "best-in-class hydrodynamic efficiency."
On its website, Oceanco says that the Bravo Eugenia is its first LIFE Design yacht. LIFE Design is an approach that "synergizes the elegance and performance of Oceanco's vessels with a carefully considered approach to their environmental impact," according to SuperyachtNews.
Article continues below advertisement
The Bravo Eugenia has "best-in-class hydrodynamic efficiency, advanced hybrid propulsion, and 100 [square meters] of extra guest space at the waterline level," according to Oceanco.
The vessel's other sustainability features includes integrated battery systems, waste heat recovery, and a 30 percent increase in fuel efficiency. For these advancements, the boat received the Yacht Club de Monaco's first Belle Class Explorer Award for Technology and Innovation.
Article continues below advertisement
The yacht features an expansive spa, a tender garage, and two helipads.
With exterior styling by Nuvolari Lenard, the vessel's proportions evoke a sport yacht more than a superyacht. "This new style will certainly create a new design stream," said Carlo Nuvolari, a partner at Nuvolari Lenard, according to Forbes.
Reymond Langston handled the yacht's interior design. "We worked very closely with the owner to find the perfect artisans and craftsmen in creating bespoke artworks, fabrics, and signature furniture pieces that reflect the owner's style and essence and combine to create a warm, inviting environment for all on board," explained Pascale Reymond, a partner at Reymond Langton Design.
Article continues below advertisement
The boat measures 357 feet long, with a 53-foot beam. It offers a range of amenities, including two helicopter pads, a tender garage for watercraft, a gym, a beach club, and a spa that features a plunge pool, a rain shower, a sauna, a steam room, and a massage room.
Article continues below advertisement
Jones also has an "attention magnet" of a helicopter
The 79-year-old also owns an ACH145 helicopter, according to Robb Report. Jones told the magazine that he originally got the 10-passenger helicopter for transportation, but it has been a boon to the Cowboys brand, too.
"It lends an aura to the Cowboys, whether we're circling the stadium and landing in the parking lot on game day or carrying business associates and sponsors," he explained. "It gets [fans'] attention and keeps them thinking about us. … I'm being facetious, but I'm also half-serious here. I'd like to take it and land it on every road in Texas. Or maybe have five, landing in every community across the US. It's a real attention magnet."