How High Workhorse Stock Could Go in the Reddit Short Squeeze
Reddit group WallStreetBets has become notorious for triggering epic short squeezes, in some cases pumping up stocks way above what Wall Street believes they're worth. Workhorse (WKHS) stock is one of the group's latest stocks of interest. What's the forecast for WKHS stock amid the Reddit-driven short squeeze?
Article continues below advertisement
Workhorse is an EV (electric vehicle) startup company focusing on the last-mile delivery sector. Unlike many other EV startups, WKHS is not in the pre-revenue stage, but actually producing and delivering vehicles. It reported revenue of $521,000 in the first quarter of 2021.
Why did Workhorse stock drop?
Markets were expecting Workhorse to get a USPS contract, but the $6 billion deal went to Oshkosh instead. WKHS stock rose and fell accordingly.
Article continues below advertisement
WKHS's stock forecast on Reddit
Workhorse stock is among the most popular names on WallStreetBets, and several Redditors see value in the stock. A post on WallStreetBets that saw more than 600 upvotes highlights the massive call option buying in WKHS and suggests the stock could be the next AMC Entertainment (AMC) or GameStop (GME).
Article continues below advertisement
And on a WKHS subreddit with over 4,600 members, there's plenty of talk about buying the stock today, Jun. 10. The stock was down in premarket trading, as meme stocks seem to be losing momentum.
Article continues below advertisement
Analysts have a pessimistic forecast for Workhorse
Wall Street analysts aren't as bullish on Workhorse. According to TipRanks, analysts' average target price for WKHS is $15.70, 7.1 percent below its current price. Of the seven analysts covering the stock, three rate it "buy" and four rate it "hold" or some equivalent.
Analysts have become wary of WKHS stock. Last week, Cowen downgraded the stock from "outperform" to "market perform" and assigned it a target price of $13. And in May, Roth Capital lowered Workhorse's target price from $15 to $8.5.
Article continues below advertisement
Cathie Wood has also dumped WKHS stock
Cathie Wood, known to be bullish on EVs, has also exited her position in WKHS. Earlier this year, she trimmed her stake in Tesla and bought Coinbase shares instead.
Article continues below advertisement
WKHS stock's short squeeze
WallStreetBets traders love stocks with high short interest. On May 14, WKHS had a days-to-cover ratio of 2.9, and according to Fintel, the stock's short volume ratio was 31.2 percent on Jun. 9. Its short interest looks high enough to trigger a short squeeze.
Article continues below advertisement
How high can WKHS stock go?
Reddit-driven short squeezes have boosted Clover Health, BlackBerry, GameStop, AMC Entertainment, and other stocks to unbelievable highs. However, as such stocks tend to crash as quickly as they climb, it's wise to do some due diligence before investing.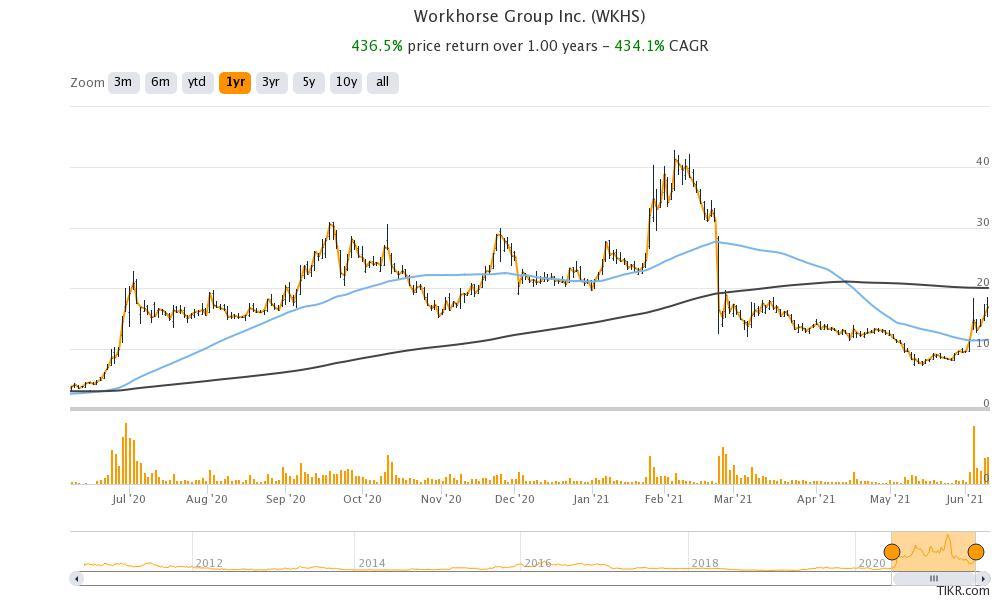 WKHS stock is currently trading above its 50-day SMA (simple moving average). However, its 200-day SMA of $20.05 could act as resistance. Whereas WKHS has a market capitalization of only about $2.1 billion, it's actually delivering vehicles, unlike some other EV startups. The stock does not look too inflated at this point, and if Reddit traders can squeeze the shorts out, we could see some near-term upside.