Is the Bloodbath in EV Stocks Over or Does More Pain Lie Ahead?
EV stocks were the darlings of markets in 2020. A lot of SPACs, or special purpose acquisition companies, were hunting for merger targets in the green energy industry and the names soared once they identified a "green gem." But things have turned upside down for the electric vehicle sector and they have fallen sharply. Have EV stocks bottomed and will they recover in 2021?
Article continues below advertisement
Before we analyze the outlook for EV stocks, let's dive into why these stocks fell in the first place. Many of the top EV stocks have lost more than two-thirds from their 52-week highs.
There are several reason why EV stocks are dropping.
EV stocks have lost favor with markets for multiple reasons. Firstly, the rise in EV stocks in 2020 had all the signs of a bubble that sent valuations to astronomical highs. EV companies acknowledged the mania subtly and went on a share selling spree. This was an apparent bid to capitalize on the surge in their stocks.
Article continues below advertisement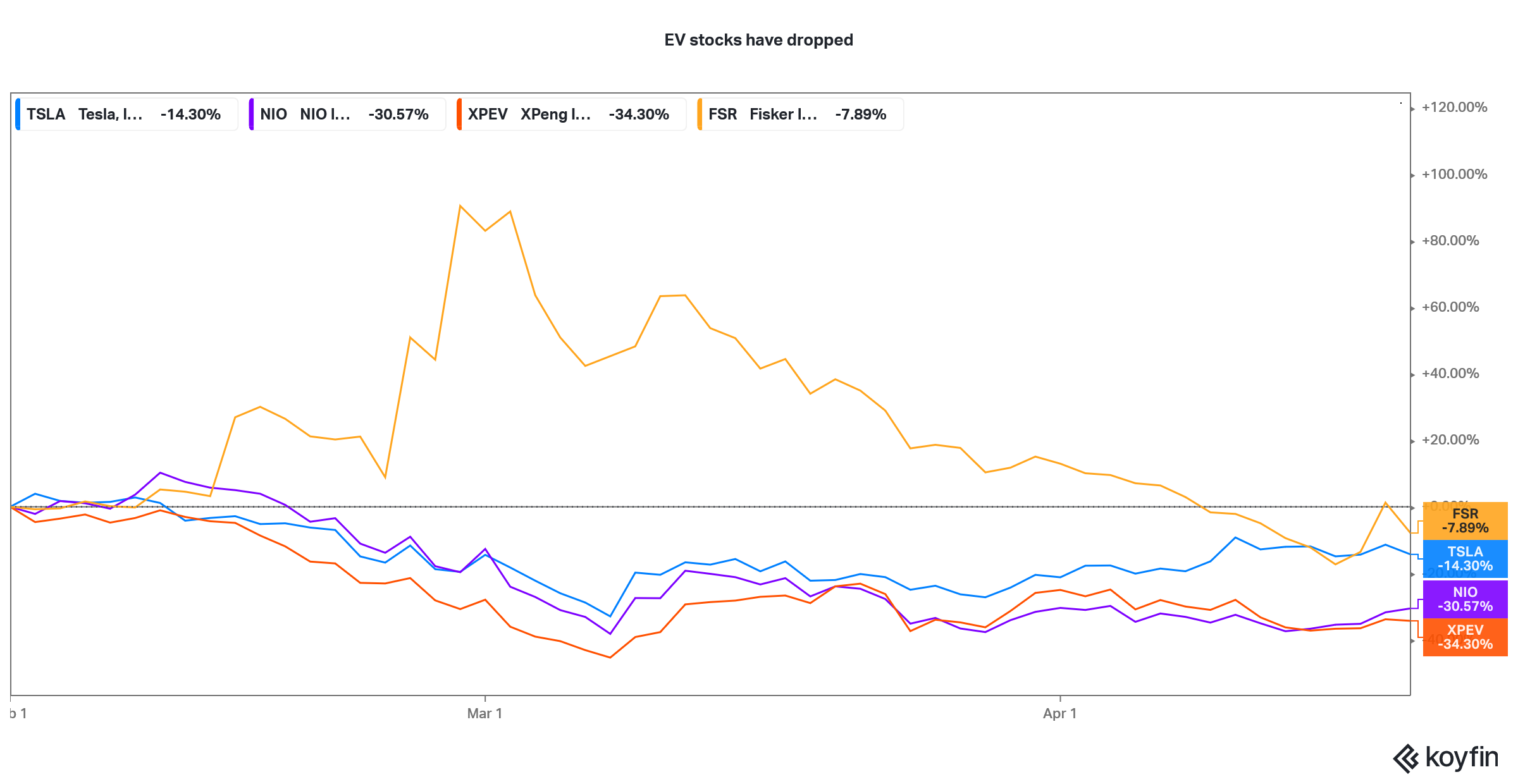 Secondly, in 2020, green energy was the most prominent investing theme. In 2021, cryptocurrencies and NFTs have taken those honors. Long-term Tesla bull Cathie Wood has ditched some TSLA shares to make way for Coinbase purchase. She is also bullish on genomics and digital wallets as the green energy theme seem to have lived its course.
Article continues below advertisement
Thirdly, the rise in bond yields also led to a sell-off in growth stocks. All the EV stocks have their profitability skewed towards the future and barring Tesla almost all the other pure-play EV companies are currently posting losses.
Article continues below advertisement
But the biggest reason EV stocks have tumbled is because legacy automakers have outlined aggressive vehicle electrification plans. The initial response to all-electric models from legacy automakers has been decent. Markets are acknowledging the fact that the race for leadership in the EV industry is wide open and legacy automakers especially Volkswagen are top contenders.
Have electric vehicle stocks hit rock bottom?
All electric vehicle stocks, including Tesla, NIO, Nikola, and Fisker have recovered from their recent bottoms. The rise in these stocks is led by bullish commentaries from some analysts as well as stabilization of bond yields. Also, a lot of investors who missed the EV boom in 2020 saw the crash as an opportunity to own some of the names.
Article continues below advertisement
However, in my view, EV stocks haven't yet bottomed. The competition in the electric vehicle ecosystem is intensifying. Volkswagen is launching several all-electric models in the affordable range and its ID.3 has already taken the top slot in Europe, dislodging Tesla from the pole position in the continent.
Article continues below advertisement
The EV industry's innovators are now competing with legacy brands.
In the premium electric car market, we have Mercedes raising the game with its EQS. Then we have NIO that would enter the U.S. market sooner than later. Audi would showcase its A6e-Tron at the Shanghai Motor show later this month. Lucid Motors is also expected to start delivering its cars sometime in 2021.
Article continues below advertisement
In the pickup space, Ford's all-electric F-150 is expected later this year and would be a tough competitor for Tesla's Cybertruck as well as models from some of the other startup EV companies.
Will EV stocks recover?
In my view, the recent rise in EV stocks is like a dead cat bounce and more pain lies ahead for these companies. There would be a glut of new electric cars over the next two years as a flurry of new models hit the market. Don't expect EV stocks to recover to their glory days anytime soon.
Article continues below advertisement
The "exclusivity" associated with pure-play EV companies would not hold and there would be fierce competition. Overall, I expect 2021 to be a bad year for EV stocks as the hyper bullish narrative dies down and markets start questioning the high valuations amid the intensifying competition.