Steer Clear of Dead Cat Bounce in CCIV Stock Before Lucid Merger Date
By Mohit Oberoi, CFA

Apr. 22 2021, Published 11:20 a.m. ET
SPAC stock Churchill Capital (CCIV) rose 7.8 percent on Apr. 21 and bounced back from its post-merger announcement lows. CCIV stock has looked weak ever since it announced the merger with Lucid Motors. We have seen several bounces after the merger but they have eventually faded. Is the recent spike in CCIV stock just a dead cat bounce before the Lucid Motors merger date?
Article continues below advertisement
CCIV was probably the most hyped SPAC and it rose as far as $65 even before the merger was announced. It eventually turned out to be the case of "buy the rumor, sell the news" and CCIV stock has been on a freefall after the merger was officially announced.
CCIV stock Lucid Motors merger date continues to be up in the air.
While CCIV and Lucid Motors haven't yet announced the merger date, the two companies expect it to complete in the second half of 2021. The merger is subject to shareholder approvals.
Article continues below advertisement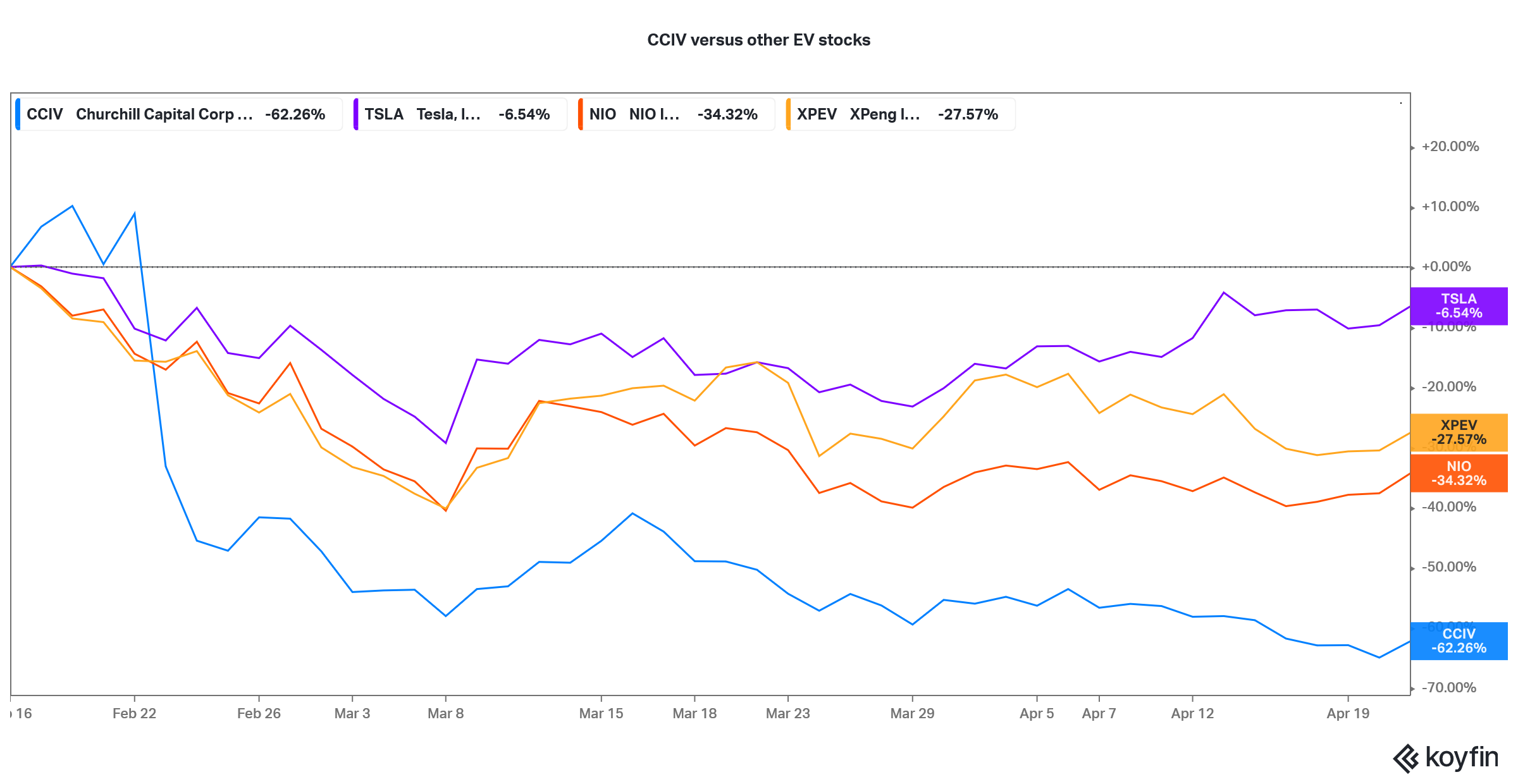 There is not Lucid or CCIV stock news to justify the bounce.
There has been no recent news from Lucid Motors. The stock has largely been moving in tandem with other EV (electric vehicle) stocks. EV stocks have fallen hard from their peaks and CCIV is no exception.
Article continues below advertisement
Lucid Motors stock looks overvalued.
Even after the fall, Lucid Motors has a pro forma market capitalization of around $32 billion. It hasn't yet delivered a car but is expected to begin deliveries later this year. While there is a tendency to compare every EV stock with Tesla and its humongous valuation, comparing one overvalued stock with another does not really help.
Article continues below advertisement
Markets assigned a premium valuation to all EV stocks as they were rerated in 2020. The bullish thesis around EV stocks had two narratives. Firstly, global EV sales would continue to soar and secondly, pure-play EV companies would be the winners.
While the first bullish narrative still stands and the future of the automotive industry looks zero-emission, the second bullish narrative is more or less punctured now. Unlike what many EV bulls might have believed, legacy automakers are not sitting ducks waiting to see their market share grabbed by others.
Article continues below advertisement
The field of Lucid Motors competitors is growing.
Lucid Motors would target the premium EV market with its Lucid Air sedan. The model's specifications look strong. However, the competition in the premium EV market is also heating up. Tesla has revamped its Model S and Model X after many quarters of stagnant sales.
Article continues below advertisement
Mercedes has also launched its EQS which has received rave reviews. An InsideEVs article called the model "remarkably efficient" compared to Tesla and Lucid. The publication has otherwise been generally bullish on Tesla.
Also, while NIO is not yet selling cars in the U.S., it would eventually and be a formidable competitor to Lucid as well as other premium EV makers. NIO is also working on new battery packs to further increase battery efficiency.
Article continues below advertisement
Finally, Volkswagen with its huge portfolio of luxury brands including Audi would be a formidable competitor in the premium EV space. The Audi A6e-Tron would be unveiled at the Shanghai Motor show later this month and is expected to have a range of 700 kilometers.
Article continues below advertisement
CCIV-Lucid Motors target price
Surprisingly, none of the Wall Street analysts are covering CCIV stock even as brokerages have started to assign target prices to SPACs before they merge. In my view, the fair price target for CCIV should be $15 which is the level where the PIPE (private investment in public equity) investors (a proxy for smart money) entered.
Article continues below advertisement
Is this a dead cat bounce in CCIV stock?
I would argue that this is another dead cat bounce in CCIV stock. The hyper bullish narrative around EV stocks that saw Tesla and NIO soar 740 percent and 1,100 percent in 2020 is punctured. 
Even prominent Tesla bulls Cathie Wood is looking at alternative investing themes and has sold some Tesla shares and bought Coinbase. She is also bullish on genomics and digital wallets.