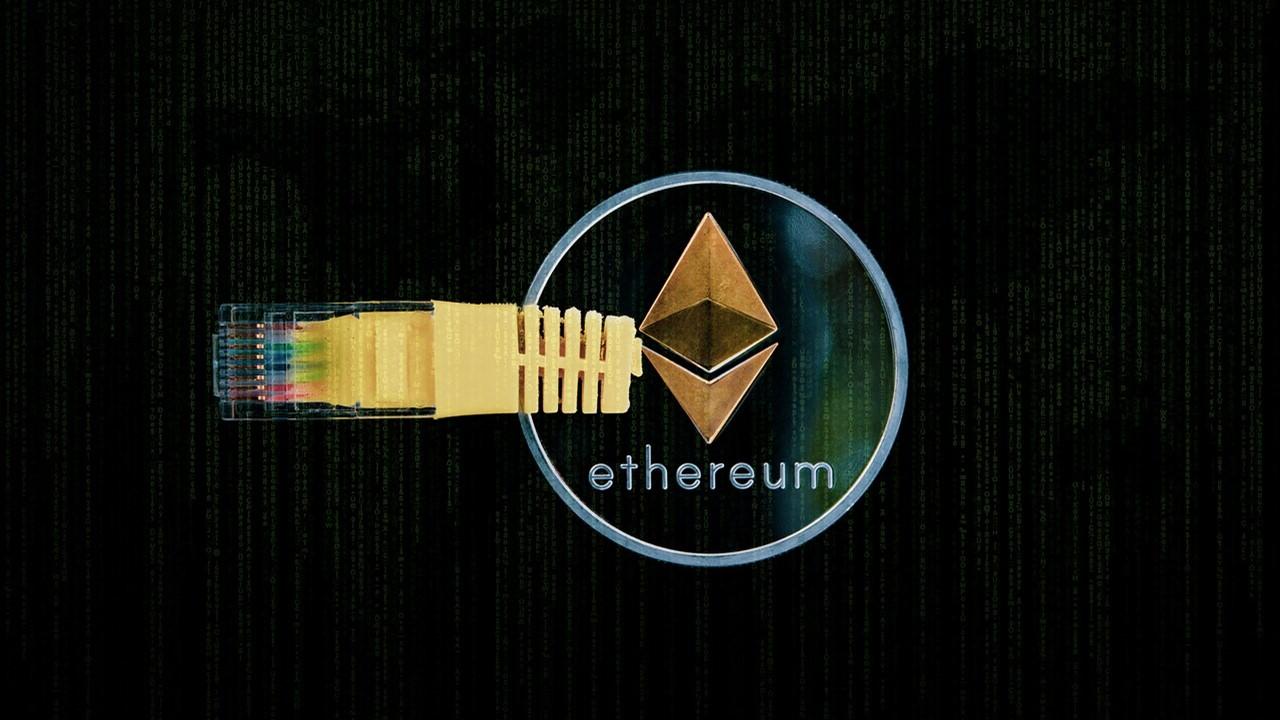 Ethereum Drops 30 Percent From All-Time High—Buy the Dip?
Ethereum's (ETH) price has retreated sharply from its all-time high following the recent cryptocurrency crash. Many investors wonder whether the pullback provides an opportunity to buy the dip. With that, investors want to know Ethereum's 2025 price prediction.
Article continues below advertisement
Ethereum is also called Ether and it ranks as the world's second-largest cryptocurrency by market value behind Bitcoin. It's the cryptocurrency of the Ethereum blockchain, which hosts a diverse range of crypto projects. The blockchain is particularly popular with DeFi apps.
Ethereum's all-time high
Ethereum reached an all-time high above $4,360 on May 12. It hit that peak around the same time Tesla CEO Elon Musk criticized Bitcoin's high energy use. He announced that the electric car company won't accept Bitcoin as payment. Ethereum is Bitcoin's biggest rival. Sometimes, investors see Bitcoin's woes as an opportunity.
Article continues below advertisement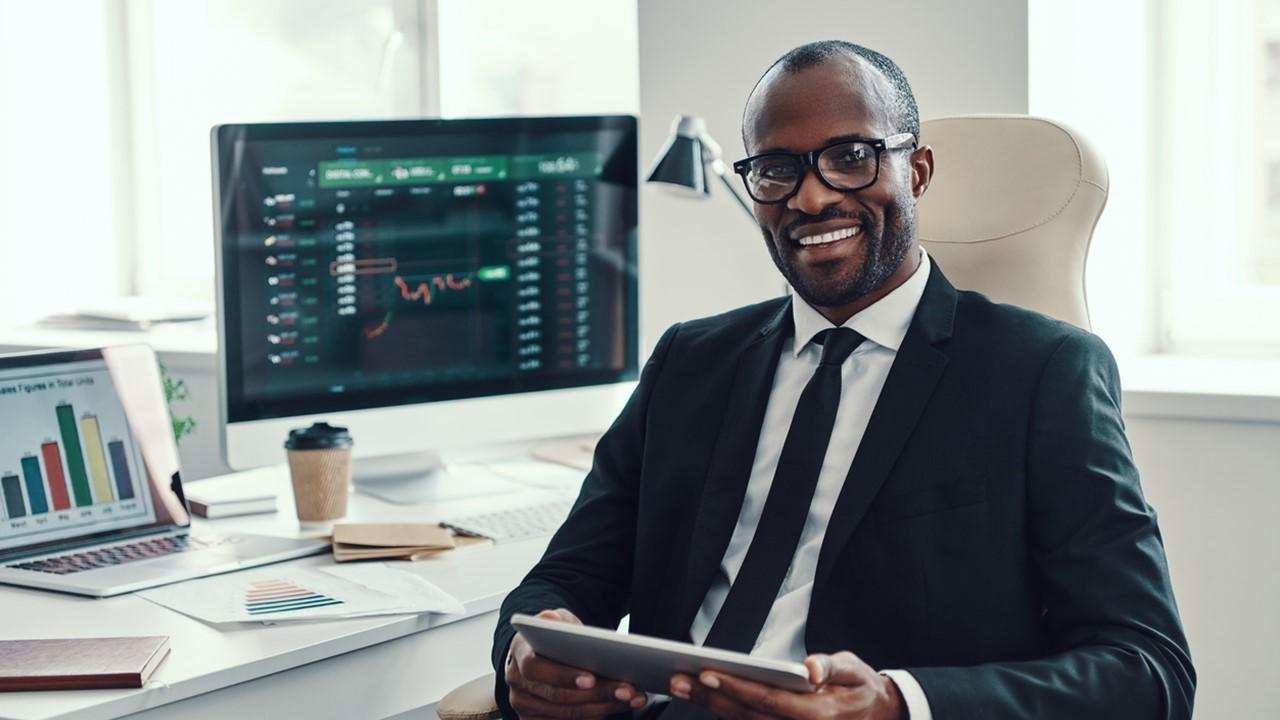 However, Ethereum has pulled back more than 30 percent from its all-time high. The decline has come amid crypto tax concerns. The U.S. Treasury seeks to require that cryptocurrency transactions above $10,000 are reported to the IRS. China's intensifying crypto crackdown with bans on trading and mining curbs has also weighed on investor sentiments and dragged down names like Ethereum.
Article continues below advertisement
Ethereum is expected to go up.
At the current price of $2,870, Ethereum has dropped about 35 percent from its all-time high. However, the crypto will likely rebound to its recent peak and even go higher.
The ongoing Ethereum blockchain upgrade is a major reason to be bullish on the crypto. The blockchain is shifting from the current PoW (proof-of-work) model to the PoS (proof-of-stake) mechanism. That will bring huge changes and make an Ether investment more attractive to big investors.
Article continues below advertisement
For example, the shift will cut the blockchain's electricity consumption by 99 percent and reduce its carbon emissions. That would make it a more attractive choice than Bitcoin to big funds that consider the environmental impact when selecting investments. Bitcoin uses the energy-intensive PoW concept.
Also, the upgrade will increase Ethereum's scale and reduce the cost of transactions on the blockchain. With greater scale, the blockchain will accommodate more apps, which would increase the demand for the Ether token.
Article continues below advertisement
By cutting the transaction cost, the blockchain would close a loophole that rivals have recently sought to explain in the competition to host DeFi apps. For example, Binance promotes its Binance Smart Chain platform as offering cost-advantage compared to Ethereum.
Article continues below advertisement
Ethereum (ETH) 2025 price prediction
The interest in Ether's price prediction has increased after a leaked Goldman Sachs memo revealed a high chance of the crypto overtaking Bitcoin as a store of value. Where will Ethereum be in 2025?
According to WalletInvestor, Ether will reach $3,700 in a year and hit $9,980 in five years, which implies a 250 percent upside potential over the current price. Long Forecast sees Ether setting a new all-time high above $4,800 in September 2021, which suggests a 74 percent upside. It predicts that the crypto will continue rising and close 2021 above $7,530. It sees the altcoin crossing $13,000 between 2022 and 2025.
Article continues below advertisement
Digital Coin Price's Ethereum price prediction points to the crypto closing 2021 at $4,500 and crossing $5,600 in 2022. Although it forecasts the altcoin going up and down multiple times over the next several years in response to market forces, it sees the crypto generally moving north. Therefore, Digital Coin Price sees Ether hitting $9,800 in 2025.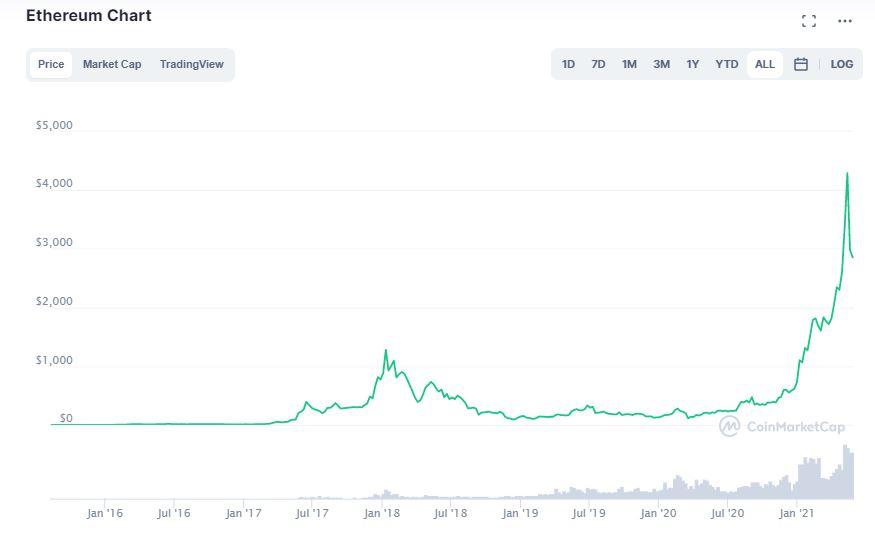 Article continues below advertisement
Can Ethereum reach $100,000?
Ethereum has had a remarkable performance. The altcoin reaching $100,000 would make many investors millionaires. However, it has other near-term milestones to reach before getting to the ambitious $100,000 target price.
Many investors eye Ethereum reaching $5,000 and then cruising to $10,000. Some investors expect that to happen as soon as 2021. Getting to $100,000 is possible but it will take time.
Article continues below advertisement
At the current price, the altcoin will need to gain 3,500 percent to reach $100,000. If Ethereum maintains a monthly growth of 10 percent from now on, it would need three years to get there, which points to it hitting the ambitious target price around 2024.
Is Ethereum (ETH) better than Bitcoin (BTC)?
As an investment, Ethereum has worked better for investors than Bitcoin in recent times. Even after pulling back sharply from its all-time high, ETH still boasts returns of more than 1,300 percent over the past year compared to 360 percent for BTC.
Article continues below advertisement
A leaked Goldman Sachs document shows analysts at the bank think that Ethereum is on its way to dethroning Bitcoin as the dominant crypto store of value. The analyst cited the increasing use of Ether in transactions on the Ethereum blockchain as giving the crypto a major value boost. For example, Goldman Sachs points out that Ether is the cryptocurrency of choice for people purchasing NFTs. As NFT trades increase, the demand for Ether will also increase.
Best way to buy Ethereum
ofEthereum is available on all of the major crypto exchanges. The altcoin is also offered by brokers like eToro, Robinhood, and PayPal's Venmo. If you have capital in the U.S. dollar, the best places to buy Ether are Coinbase, Binance, and Kraken. If you would like to make your trade through a broker instead than an exchange, then Robinhood, Venmo, and eToro will all work for you.