Troubles Mount for DWAC Stock and Trump's TMTG Before Merger
Digital World Acquisition Corp. (DWAC), the SPAC that has announced a merger with former President Donald Trump's TMTG (Trump Media and Technology Group), has been in a free fall and is down sharply on June 27.
Article continues below advertisement
DWAC said that it has received a subpoena from a federal grand jury sitting in the Southern District of New York. The SPAC disclosed an SEC subpoena earlier in June as well.
What happens to the DWAC-TMTG merger?
DWAC stock soared in 2021 when it announced a merger with Trump's media company TMTG. In a world where SPACs are struggling to trade above the IPO price of $10, DWAC stock traded at an over 10x premium to the IPO price.
Article continues below advertisement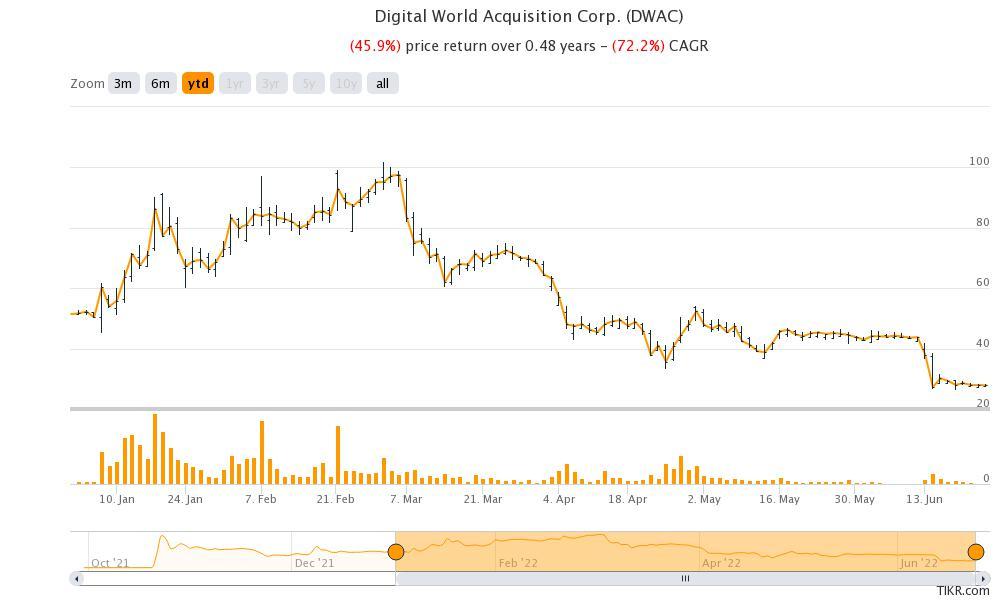 With legal troubles mounting, the DWAC-TMTG merger doesn't look certain, and that's what the company admitted in its SEC filing. It said, "These subpoenas, and the underlying investigations by the Department of Justice and the SEC, can be expected to delay the effectiveness of the Registration Statement, which could materially delay, materially impede, or prevent the consummation of the Business Combination."
Article continues below advertisement
There have been multiple merger terminations in 2022. However, these were due to what companies call "adverse market conditions," a reference to the steep fall in valuations of growth companies which is leading to a sell-off in most de-SPACs. SPAC stockholders have been looking for a safer exit and redeeming their units while voting on the business combination.
Article continues below advertisement
This way, SPAC stockholders can get the IPO price plus any accrued interest back from the trust. In 2022, most SPAC stockholders have been opting for redemptions and are wary of the post-merger sell-off.
TMTG responds to the subpoenas.
TMTG has also responded to the news of subpoenas. In its release, the company said, "TMTG is focused on reclaiming the American people's right to free expression. Every day, our team works tirelessly to sustain Truth Social's rapid growth, onboard new users, and add new features. We encourage — and will cooperate with — oversight that supports the SEC's important mission of protecting retail investors."
Article continues below advertisement
Troubles mount for Trump's TMTG.
Legal issues facing DWAC are only part of the troubles that TMTG has been facing. Truth Social launched on Apple Play Store earlier in the year but the app has been notorious for glitches and its uncanny similarity with Twitter. Also, there has been a management shakeup at the company because Trump hasn't been happy with the tardy pace of growth. The app still isn't available on Android.
Article continues below advertisement
Truth Social intends to be a preserver of free speech. However, Elon Musk, who has rediscovered himself as a "free speech absolutist," has also been looking to transform Twitter. Musk's acquisition of Twitter is currently stalled as the billionaire tries to figure out the number of fake accounts on Twitter even as many believe it's a ploy to renege Twitter's buying price.
Article continues below advertisement
Musk has been cozying up to conservatives and has also vowed to vote for a Republican in the 2024 elections. He offered to restore Trump's Twitter account, which the former President turned down.
Article continues below advertisement
All said, if Musk can relax Twitter's censoring policies after the acquisition, it would take away the key USP of Trump's Truth Social. DWAC stock also fell on news of Musk acquiring Twitter.
For now, there doesn't appear to be any respite for Trump's TMTG and DWAC stock. With investors shunning speculative names, DWAC might find it hard to bounce back anywhere near its recent highs. The legal troubles are only complicating the picture in the anyways poor macro environment.