'The Five' Has a Live Audience, Show Heats Up on Abortion Debate
Twitter has exploded with comments over a spar between Geraldo Rivera and Greg Gutfeld during a recent airing of Fox News' The Five. Does the show have a live audience?
Article continues below advertisement
Yes, The Five has been taped in front of a live studio audience since 2016. The weekday show features roundtable discussions between co-hosts Gutfeld, Rivera, Dana Perino, Jesse Watters and Jeanine Pirro. It has been called Fox News' answer to ABC's The View.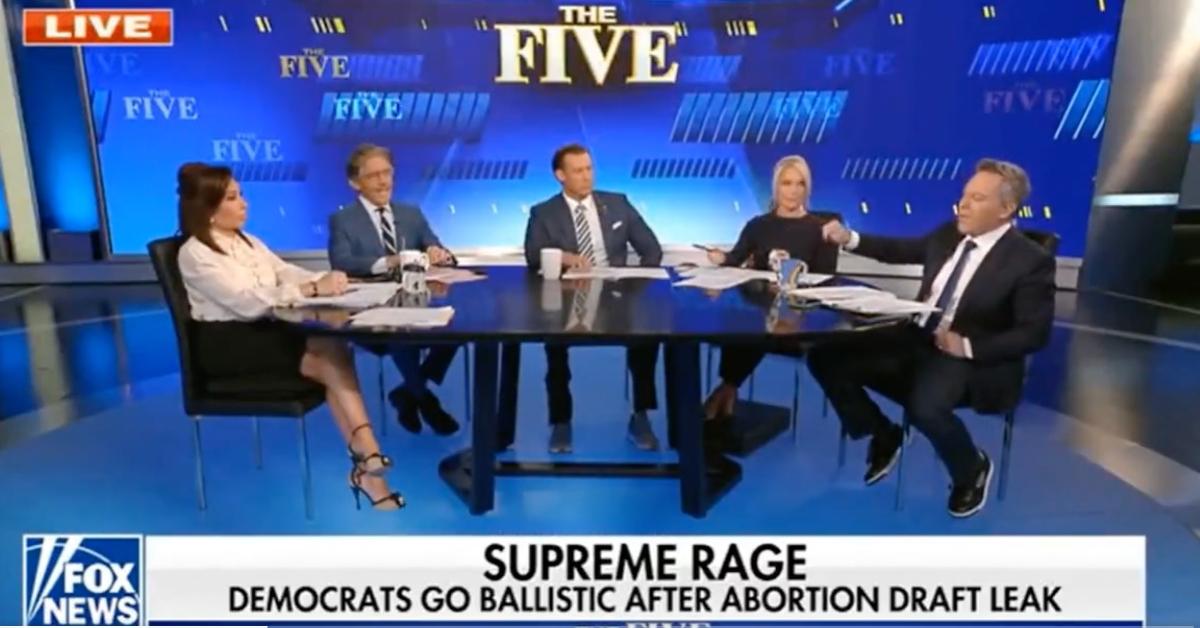 Article continues below advertisement
Rivera and Gutfeld disagree on the abortion issue.
A debate between Rivera and Gutfeld started during a discussion about abortion and Roe v. Wade on May 4. As is typical of roundtable-type shows, each co-host gives a "soap-box" speech about their opinions on a particular topic.
When it was Rivera's turn to talk, he criticized three conservative Supreme Court judges — Neil Gorsuch, Brett Kavanaugh, and Amy Coney Barrett — for lying about their stance on abortion and Roe v. Wade during their confirmation hearings.
Article continues below advertisement
"Shame on Gorsuch, shame on Coney Barrett, shame on Kavanaugh. They knew when they were swearing to those senators and the conversations in the senate offices that they were going to vote to reverse or overturn Roe v. Wade. They knew it, and they lied about it," Rivera said during the show.
Rivera is pro-choice.
Rivera has said publicly that he's pro-choice. In a 2018 Twitter post, Rivera stated that he "vastly preferred" Merrick Garland over former President Donald Trump's nominee Kavanaugh. "Every indication is he'll be anti #RoeVWade," Rivera tweeted.
Article continues below advertisement
Gutfeld criticized the pro-choice movement.
When Gutfeld got on his soap box, his opinions were obviously on the pro-life side of the debate. "The problem with the pro-choicers is they don't have the balls to state their case plainly. Just say I prefer freedom over fetuses," Gutfeld said.
"My body, my choice. How much simpler could you get?" Rivera responded.
Article continues below advertisement
The conversation between the two heated up after that. Gutfeld said Rivera insulted people. Rivera called Gutfeld "arrogant" and an "insulting punk."
"Go for it, Geraldo. Come on, keep going. You're making a fool of yourself," Gutfeld said.
Article continues below advertisement
Twitter users call for Rivera's removal from 'The Five.'
On Twitter, the majority of remarks were against Rivera, with many people calling for his removal from the show.
"@GeraldoRivera is totally wrong again. How dare he lie again? The importance of the Supreme Court leak is the leak. Why does @FoxNews continue to have him on #TheFive when viewers don't like him?" tweeted Judy Dian.
Article continues below advertisement
"@FoxNews did you watch Gerald yesterday please don't bring him back to the FIVE he needs to stay AWAY you will lose viewers," tweeted Mary Jackson.
Article continues below advertisement
"@FoxNews I am sorry but Geraldo is very disrespectful, actually downright ugly with the way he talks to people and about people. I just turned The Five off. Can't watch him," Pat Evans tweeted.
After the heated debate, Rivera posted to Twitter, "The Five is a fun place to work because all points of view have freedom to speak their minds."