Dana Perino: Former White House Press Secretary Is a Fox News Host
By Dan Clarendon

Apr. 5 2022, Published 9:38 a.m. ET
Amid the reports that current White House Press Secretary Jen Psaki will be leaving the Biden administration to host a new MSNBC show, observers might be curious about other White House press secretaries who got cable-news jobs. Dana Perino is still on The Five. She joined the Fox News program in 2011.
Article continues below advertisement
Perino was the final press secretary for former President George W. Bush and the second woman to hold the job in White House history, following Bill Clinton's press secretary Dee Dee Myers.
According to an archived Washington Post profile, Perino had White House ambitions from a young age. When Perino was 6 years old, she stood on a milk crate in her family's driveway in the suburbs of Dallas, Colo., waved an American flag, and said, "I'm going to work in the White House."
Perino worked her way up to White House press secretary and made sure she was "the most well-read person in the room."
According to her Fox News bio, Perino earned a degree in mass communications from Colorado State University-Pueblo and a master's degree in public affairs reporting from the University of Illinois-Springfield.
In 1995, Perino moved to Washington, D.C., and started working as a staff assistant for Scott McInnis, then a Republican U.S. representative from Colorado. That job led to her post as press secretary for Dan Schaefer, another Republican U.S. representative from Colorado.
Article continues below advertisement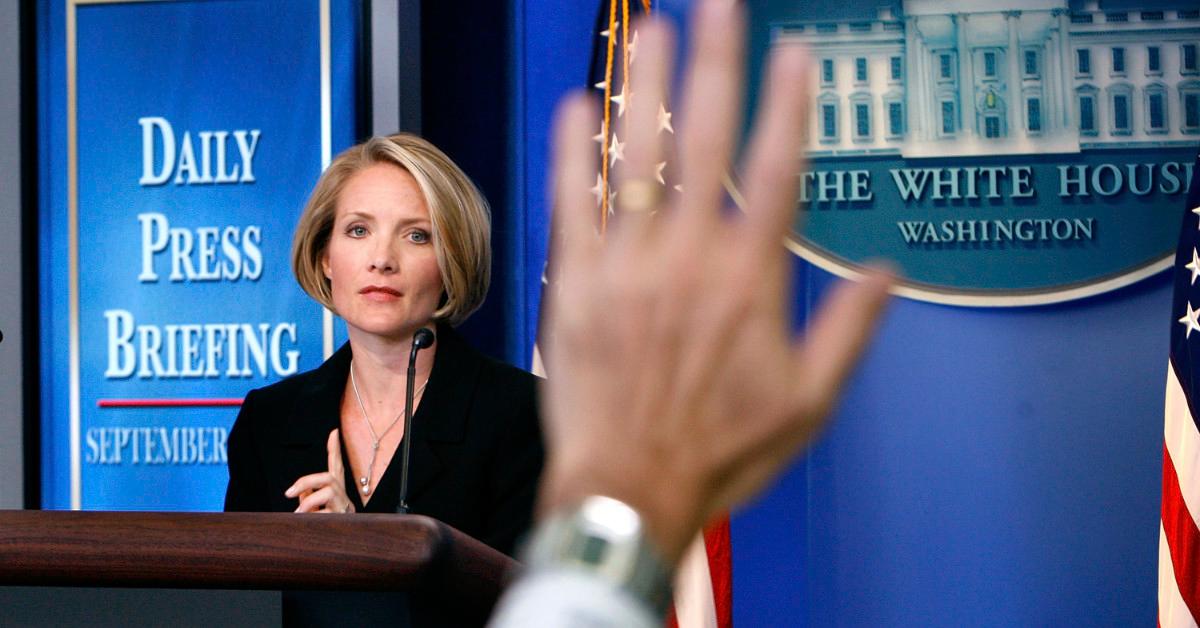 In 2005, then-White House Press Secretary Scott McClellan hired Perino as his deputy, and after he left the job in 2006 and his replacement departed the following year, Perino got the press room podium on a full-time basis.
Article continues below advertisement
In an interview with Deseret News last year, Perino admitted that she had "a bit of an inferiority complex" about her education when she started at the White House. "One of the ways I found to set myself apart, to catch up, was that I always wanted to be the most well-read person in the room," she added. "And when I was the White House press secretary, I would make sure that everyone in the room knew that I was the most well-read person in the room. And that gave me a measure of power."
Perino's Fox News gig is one of many jobs she has had since leaving the White House.
Perino joined Fox News as a contributor in 2009, and she's been co-hosting The Five on the channel since 2011. She previously anchored The Daily Briefing With Dana Perino, but that show ended in January 2021 as she became co-host America's Newsroom alongside Bill Hemmer.
That's not all. Perino is also the host of Fox Nation's Dana Perino's Book Club, which is fitting since she got a job as editorial director for Crown Forum, a conservative-books imprint at Random House, in 2011.
The 49-year-old previously founded the strategic communications firm Dana Perino and Company and the speed-dating-like networking organization Minute Mentorship. Perino is also the author of three published books, including last year's Everything Will Be Okay: Life Lessons for Young Women (from a Former Young Woman).