How to Find an Abortion Rights Protest Near You and Other Ways to Join the Fight
If you're angry about the draft opinion from SCOTUS that would reverse Roe v. Wade, here's how to find abortion rights protests and rallies near you.
Recent polling suggests more than half of Americans support abortion access, so the May 2 news that SCOTUS is poised to strike down Roe v. Wade has understandably stoked a great deal of anger from pro-choice supporters. Impromptu protests sprouted up near courthouses, legislative buildings, and town halls across the country on May 3, with more organized rallies and demonstrations to follow.
It's likely abortion rights protests will continue leading up to and following when the Supreme Court hands down its official ruling in Dobbs v. Jackson Women's Health Organization. Here are some tips to find an abortion rally near you.
Article continues below advertisement
Article continues below advertisement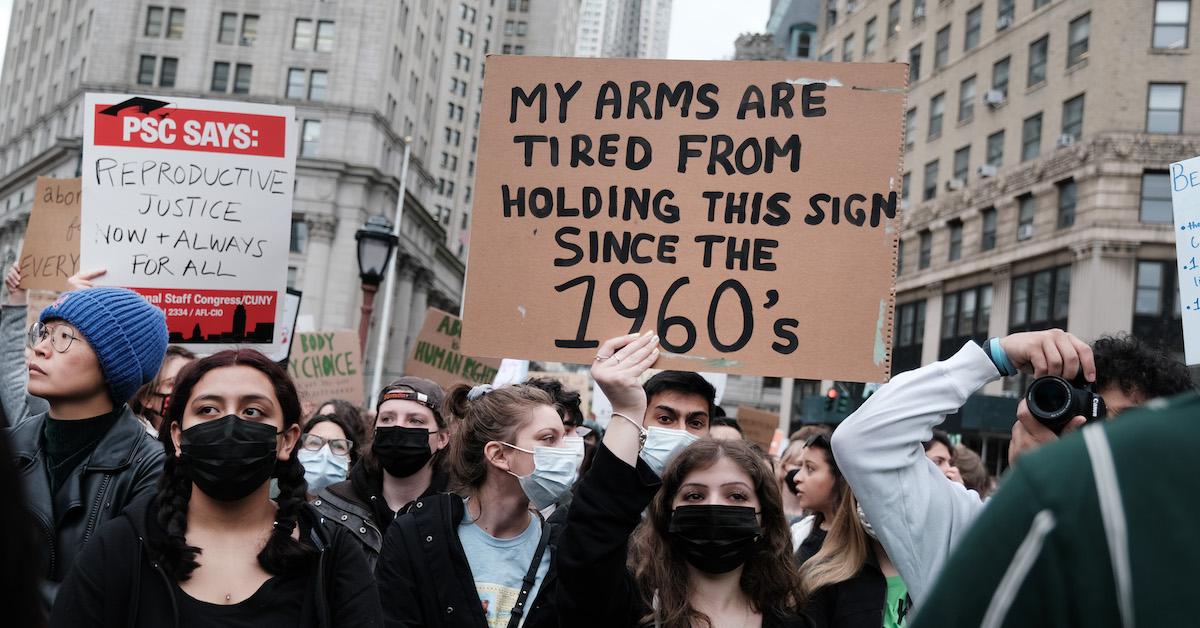 Follow these activist groups for updates on abortion rights rallies near you.
Several reproductive rights organizations organized last-minute demonstrations the Tuesday after POLITICO published the leaked opinion, so following them on social media is the best way to stay informed on upcoming protests as they emerge. They also regularly share other ways you can support abortion access beyond marches and rallies.
Article continues below advertisement
The following list isn't comprehensive but an excellent place to start receiving updates on upcoming rallies around reproductive rights:
Article continues below advertisement
Article continues below advertisement
Get informed before you go with abortion activist training.
While protest serves an important purpose in any struggle for rights, it isn't the only tool available to help in the fight for abortion access. Organizations like Abortion Access Front will be holding activist training so supporters can join the fight in other ways, such as escorting patients to appointments, connecting patients in need with funds for travel or services, and providing vital information about their rights.
And while people in larger cities may have no trouble finding abortion rights protests near them, people in rural or more conservative areas may need to organize their own. Often, these are the areas where abortion healthcare is most under threat. Knowing that, NARAL (National Abortion Rights Action League) is holding a virtual Team Mobilization Training on May 18 to give activists the tools and knowledge they need to collectively organize in their hometowns.
Article continues below advertisement
Article continues below advertisement
Activists also encourage supporters to donate to the following funds.
Not everyone is able to demonstrate but may be able to support the fight for abortion access with their dollars. If you don't have a particular locale or region in mind to help, donating to the National Network of Abortion Funds casts a wide net. This fund splits donations among several regional organizations that help patients with expenses.
States like Texas, Mississippi, and Oklahoma are among the most embattled for abortion care access, with the latter being the latest to sign into law a ban that limits abortions to the first six weeks of pregnancy with no exceptions for rape or incest. These states are good places to focus your donations if you live in a state where abortion access is codified by protective legislation.
Texas: Texas Equal Access Fund
Mississippi: Mississippi Reproductive Freedom Fund
Oklahoma: Roe Fund