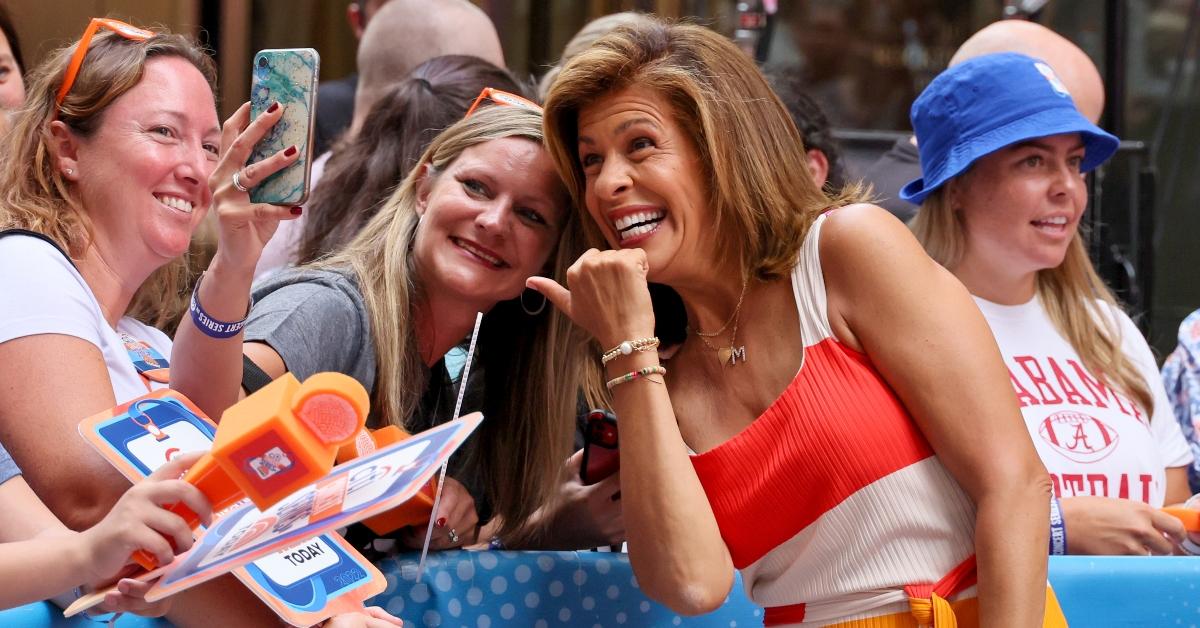 Where Is Hoda Kotb? Popular 'TODAY' Anchor Isn't on the Show This Week
Whenever a regular daytime newscaster isn't on the air for a couple of days, fans and the tabloids start to speculate where the missing host may be. This time it's TODAY host Hoda Kotb who has been missing from the desk of the NBC morning show. Where is Kotb?
Article continues below advertisement
Kotb, one of TODAY's main anchors since 2017, is taking time off this week to celebrate her birthday with friends and family. She turns 58 on Aug. 9. Kotb posted a picture of her family on Instagram early on her birthday.
Article continues below advertisement
"Family on my birthday! Best present ever. Lucky me," Kotb wrote on Instagram. The picture includes her two daughters, Haley and Hope, who she shares with ex-fiance Joel Schiffman.
Kotb received 13,935 likes on the Instagram post and numerous well-wishes from colleagues and fans. "You're the most loved," commented Jenna Bush Hager, Kotb's co-host on TODAY's Fourth Hour.
Article continues below advertisement
On Kotb's Twitter page, she shared a picture of her and her daughters with a bunch of birthday balloons. "Lucky me! Xo," she tweeted.
Article continues below advertisement
There's a possible rift between Kotb and co-host Savannah Guthrie.
Fans became concerned about Kotb's absence from the morning show after tabloids reported a possible rift between Kotb and her TODAY co-anchor Savannah Guthrie. Kotb took over the morning show desk opposite Guthrie in 2017 after former TODAY host Matt Lauer left over allegations of inappropriate sexual behavior in the workplace.
In June, The Sun reported that Kotb and Guthrie "can't stand each other," according to a source close to production on TODAY. The two may be chummy on-air, but once the cameras are off, so are the niceties.
Article continues below advertisement
Guthrie would rather see her bestie, Bush Hager, sitting at the morning desk with her, reports The Sun. When Lauer left TODAY, Guthrie hoped the anchor seat would be given to Willy Geist, The Sun reports.
"Savannah is the boss. After Matt Lauer was ousted, Savannah grabbed power, and she really wanted Willie Geist in Hoda's role, but his ratings were just not up to par for the network," an insider told The Sun. The insider also said that Guthrie "thinks of herself as a real news person," while Kotb is seen as "the lightweight that drank wine with Kathie Lee Gifford" for years, The Sun reports.
Article continues below advertisement
Fans have reportedly been noticing tensions between the two TODAY show co-hosts. During a July 21 cooking segment with cookbook author Elizabeth Heiskell, Guthrie appeared to snap at Kotb, reports OK! magazine.
Fans seem to favor Kotb over Guthrie.
In the interest of public opinion, fans appear to favor Kotb over Guthrie.
Article continues below advertisement
"NBC needs to get the Today. Show on track. The audience is disgusted by Savannah Guthrie. She is arrogant, cruel, and totally wrong in her attitude to the TV audience. I want to watch Hoda but I can't stand Savannah," tweeted Beth O'Donnell.
"Savannah and Jenna should be removed from the show. I will not watch it with them on it. Hoda is the kindest person ever on that show. Savannah has always been trouble and she thinks only her interviews are good. (NOT) Jenna stay home and be a big loud mouth mom," tweeted Cindy Zweifel.