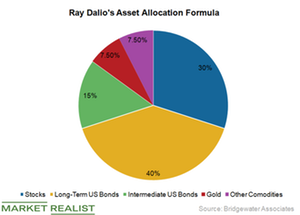 Ray Dalio Increased His Bets on Gold during Q1
Dalio's investment in gold
Ray Dalio, Bridgewater Associates' chairman and chief investment officer, increased the fund's stake in the SPDR Gold Shares (GLD) and the iShares Gold Trust ETF (IAU). Bridgewater Associates increased its holdings in GLD from 3.91 million shares last quarter to 4.03 million shares. The fund also raised its holdings in IAU from 11.3 million shares to 11.6 million shares. GLD and IAU formed 3.01% and 0.88% of the fund's holdings at the end of the first quarter.
Article continues below advertisement
Dalio recommends gold
Bridgewater Associates didn't have any major positions in gold ETFs until the second quarter of 2017. By the end of the third quarter of 2017, GLD formed 3.18% of the fund's portfolio. Dalio likes gold due to its diversification and hedging properties. In a LinkedIn post last August, Dalio wrote, "If you don't have 5–10% of your assets in gold as a hedge, we'd suggest that you relook at this. Don't let traditional biases, rather than an excellent analysis, stand in the way of you doing this."
Dalio also recommends gold for diversification purposes and as an inflation hedge. Gold tends to perform well when inflation is high or growth is declining.