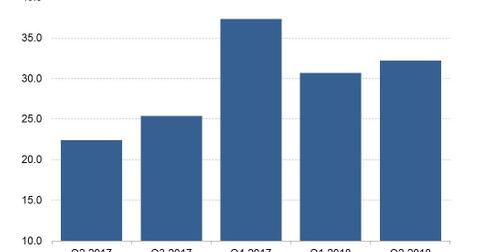 How Is Amazon Faring in North America?
By Neha Gupta

Updated
North America supplied 70% of revenues
North America is Amazon's (AMZN) largest retail region, contributing nearly 70.0% of overall retail revenues in the second quarter. However, the region is also a competitive hotbed, as North America is the domestic region of most of Amazon's main retail competitors, including eBay (EBAY), Etsy (ETSY), and Walmart (WMT). 
Amazon's international e-commerce rivals such as Alibaba (BABA) have also been making a foray into North America. Last year, Alibaba entered into an agreement with the government of Mexico to help Mexican businesses sell their goods in China.
Article continues below advertisement
North America retail revenues jumped 44%
Despite the North America region being crowded, resulting in stiff retail competition, Amazon has expanded at a double-digit rate in the region. In the second quarter, Amazon's North America retail sales jumped 44.0% YoY (year-over-year) to $32.2 billion. Amazon's North America retail sales grew 46.0% YoY in the first quarter, following its growth of 42.0% YoY in the fourth quarter of 2017.
Amazon's global revenues grew 39.0% YoY in the second quarter. Etsy, a Google (GOOGL) cloud computing customer, grew its global sales by 30.2% YoY in the second quarter. eBay grew its global sales by 9.1% YoY in that period.
Google commands 6.0% of the global cloud market compared to Amazon's 34.0%, according to Synergy Research.
Stimulating growth in Mexico
In Mexico, part of Amazon's North America region, Amazon has tried to stimulate sales by introducing a variety of ways for consumers in the country to pay for goods bought from its online site. Mexican consumers can pay for Amazon purchases with cash or use an Amazon-branded debit card.
Walmart is also a huge retail player in Mexico. Walmex, Walmart's Mexico subsidiary, reported an 8.1% YoY increase in revenues in the second quarter.