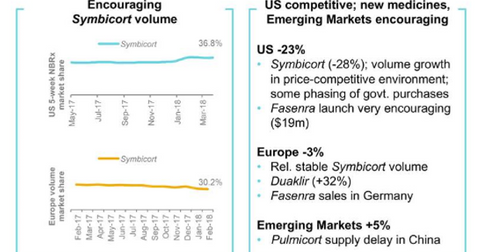 How Did AstraZeneca's Respiratory Segment Perform in Q1 2018?
By Kenneth Smith

Updated
Crestor
Product sales of AstraZeneca's (AZN) Crestor declined 38.0% to $389.0 million in the first quarter. As a result of the underlying demand and benefit from the removal of the second-line usage restriction, Crestor sales in China increased 39.0% to $145.0 million in the first quarter.
In contrast, Crestor sales witnessed double-digit declines in the United States and Europe. Its US sales declined 59.0% to $46.0 million due to the impact of multiple Crestor generic medicines. Its Europe sales fell 67.0% to $65.0 million, driven by the effect of generic medicines in various markets.
AstraZeneca expects this impact on its Europe sales to continue in 2018. This trend was similar in Japan as well, where Crestor sales declined 76.0% to $426.0 million due to multiple generics on the market and the effect of government incentives for the increased adoption of generic medicines.
Article continues below advertisement
Respiratory segment
AstraZeneca's Respiratory segment—which includes key products such as Symbicort, Pulmicort, Daliresp, Tudorza, and Duaklir—generated sales of ~$1.2 billion in the first quarter, a decline of 6.0% in constant exchange rates (or CER). It represented 24.0% of AstraZeneca's total product sales in the first quarter.
Symbicort
Symbicort sales declined 6.0% to $634.0 million in the first quarter. The drug leads the global market by volume in the inhaled corticosteroid (or ICS)/long-acting beta agonist (or LABA) class.
In emerging markets, Symbicort grew 14.0% to $128.0 million on the back of 38.0% growth in the China market to $66.0 million. On the other hand, its US sales decreased 28.0% to $183.0 million due to pricing pressure and the timing of government buying. Amid challenging market conditions, this performance was in line with expectations.
In Europe, Symbicort retained its class leadership position and stabilize its market share by volume in its class. Its Europe sales increased 6.0% to $212.0 million amid an increased level of competition from other branded and Symbicort analog medicines.
In the next part of this series, we'll take a look at the other products in AstraZeneca's Respiratory segment.