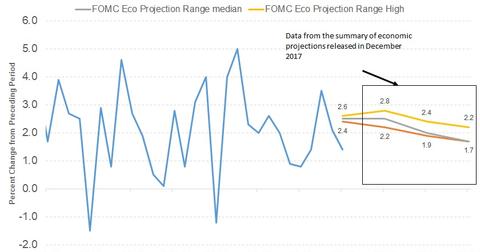 Why the Fed's Rate Hikes Are behind Schedule
By Ricky Cove

Updated
Nominal GDP indicates higher rates
The recently released second estimate for 4Q17 GDP indicates that the US economy grew 2.5%, a percentage point lower than the advance estimate of 2.6% and considerably lower than the 3Q17 growth of 3.2%. The nominal GDP growth rate, which is the real growth rate plus inflation (TIP), was 4.9%. The nominal GDP growth rate for 2017 was 4.4%, and 3.9% in 2015 and 2016. The current federal funds rate of 1.25%–1.50% is much lower than the rates implied by the nominal GDP growth rate, suggesting that the US Fed could move ahead with faster rate hikes if the economy supports such rate increases.
Article continues below advertisement
Recent macro developments pushing odds for rate hikes
Although GDP numbers were a tad lower in 4Q17 than in previous quarters, there should not be any reason to worry. After a relatively high growth of 3.2% in 3Q17, the current estimate for 4Q17 growth could be considered as positive softening from a higher level. As all other economic indicators—the manufacturing index, housing (XHB), and industrial production (XLI)—have recently hit multiyear highs, a minor slowdown may not be a concern. With high employment levels, rising prices, and improving consumer sentiment, the US economy looks to be on track for another year of growth.
Could the Fed act sooner than expected?
The new Federal Reserve chairman, Jerome Powell, indicated that the Fed could catch up with rates this year, spooking markets with the possibility of faster rate hikes. The prospect of higher rates led to a sharp correction of US indexes (VGK) and equity markets in February and could reignite market anxiety. Bond (BND) markets face the possibility of their three-decade bull run ending if rates increase rapidly. The bottom line is that rates are very likely to increase, and this is common with an expansionary business cycle.