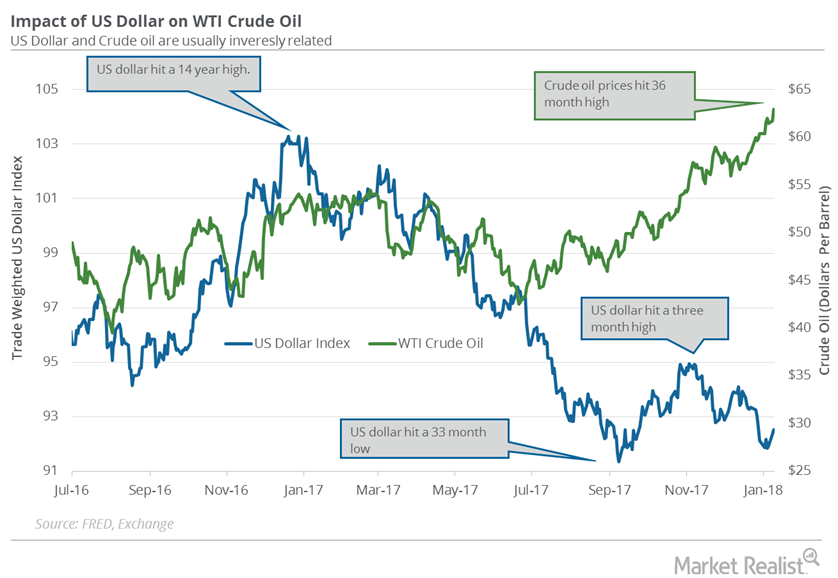 US Dollar Recovering from 3-Month Low: Bearish for Crude Oil?
US dollar  
The US Dollar Index (UUP) rose 0.18% to 92.58 on January 9, 2018. It rose 0.71% in the last five trading sessions. The US dollar rose due to short covering. It has been recovering from a three-month low. The appreciating dollar could have limited the upside for US crude oil (SCO) prices. US oil (UCO) prices rose 4.3% in the last five trading sessions due to several bullish drivers.
Higher oil prices favor funds like the iShares U.S. Energy ETF (IYE) and the iShares Global Energy ETF (IXC).
Article continues below advertisement
The US Dollar Index fell ~9.8% in 2017. The dollar fell partly due to the improving economy outside the US. It was the worst annual drop since 2003. However, US crude oil prices rose ~12.4% in 2017, partly supported by a weak dollar. Higher oil (USO) prices benefit energy companies (FXN) (FENY) like Laredo Petroleum (LPI), Stone Energy (SGY), and Whiting Petroleum (WLL).
US dollar's lows and highs  
The US dollar hit 91.3 on September 8, 2017—the lowest level in 33 months. It impacts the PowerShares DB US Dollar Bullish ETF (UUP), which tracks the US dollar's performance. On the other hand, the US dollar hit 103.8 on January 3, 2017—the highest level in 14 years.
Impact  
The Fed might hike the US interest rate three times in 2018, which could support the US dollar. However, the improving economy outside the US could see the US dollar lag its peers. The European Central Bank could hike interest rates by the end of 2018. Moves in the US dollar could be reflected in oil (DWT) prices.
Next, we'll discuss some crude oil price forecasts.