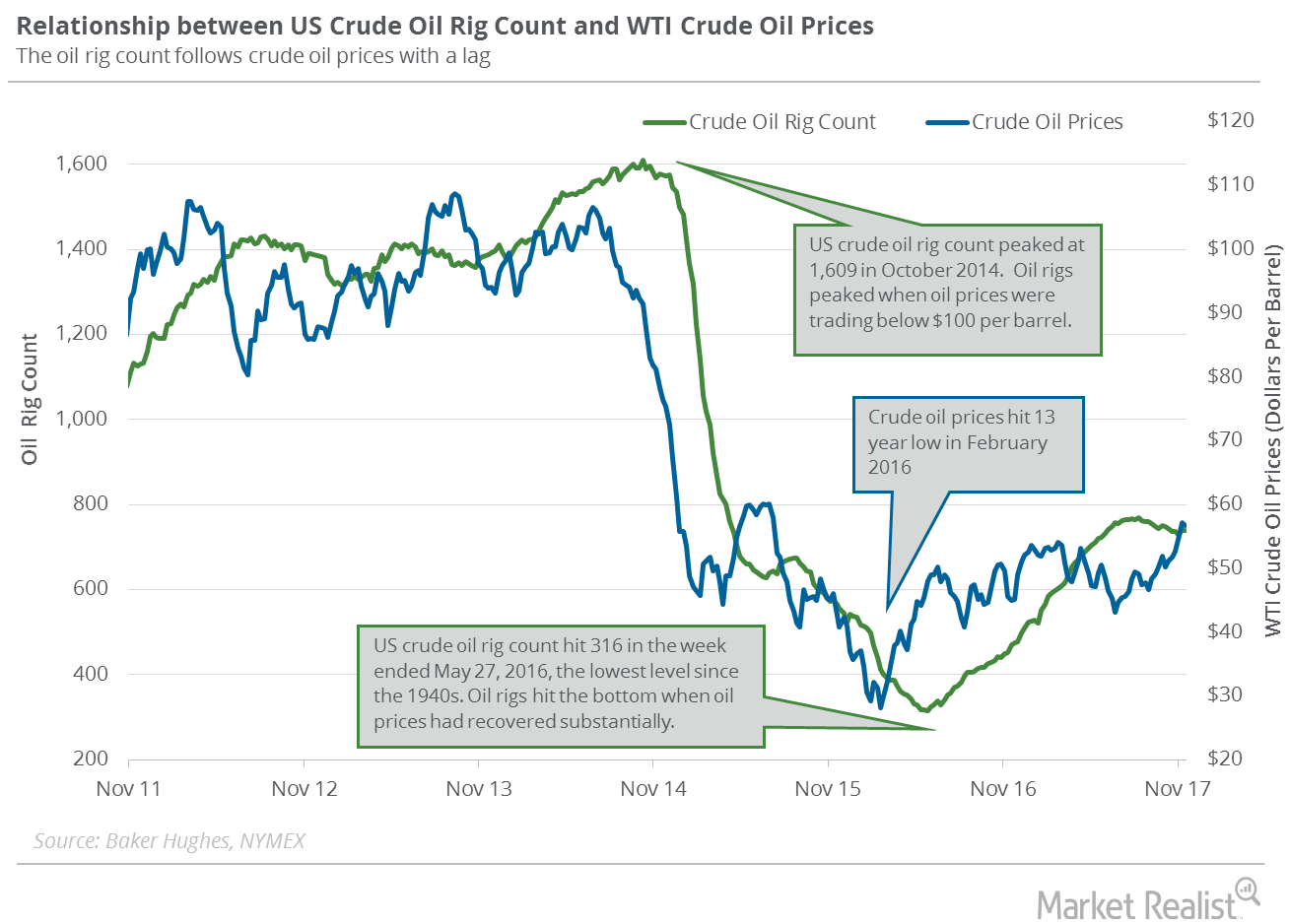 US Crude Oil Rigs Are Near 3-Month High
Oil rigs 
Baker Hughes, a GE company, published its weekly US crude oil rig report on December 1, 2017. US oil rigs rose by two, or 0.3%, to 749 between November 22, 2017, and December 1, 2017. Oil rigs were up 57% from the same period in 2016. The rigs were near their 3-month high, while US crude oil (OIL) (USO) prices are near their three-year high.
Higher oil prices benefit drillers (XES) (IEZ) like Transocean (RIG), Diamond Offshore (DO), Schlumberger (SLB), Rowan Companies (RDC), and Halliburton (HAL).
Article continues below advertisement
US crude oil rigs' peaks and lows
The US crude oil rigs hit an all-time high of 1,609 in October 2014. On the other hand, rigs hit 316 in May 2016, the lowest level since the 1940s. Rigs were up 433, or 137%, from the low in May 2016.
Oil prices, rigs, and crude oil production  
US oil (DBO) (DWT) prices were up ~30% since June 2017. US oil production is also up ~15% since July 2016. US oil rigs follow crude oil prices with a four-month lag, according to the EIA. So, higher oil prices could drive US drilling activity, which in turn would drive US production. Rystad Energy estimates that US oil production could surpass 9,900,000 bpd (barrels per day) by December 2017.
Impact 
US oil rigs were at their highest level since September 15, 2017. Higher oil prices and improving drilling costs for US shale producers (XLE) (RYE) could increase US drilling activity and production, which could consequently lead to excess supply and pressure oil (SCO) prices.
Next, we'll cover the important drivers of crude oil for this week.