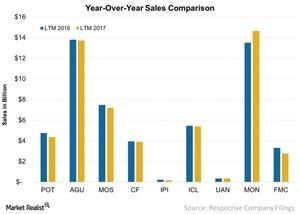 A Review of Key Agribusiness Companies' 2017 Sales
Performance comparison
In our series Comparative Analysis of Fertilizer Companies' 3Q17 Earnings, we compared fertilizer companies' 3Q17 performance. However, as the agriculture business is seasonal, we should also look at annual trends for a complete picture.
Article continues below advertisement
Year-over-year sales
In the above chart, we compare agribusiness companies' sales over the last 12 months and the year prior. All companies, except for Monsanto (MON) and CVR Partners (UAN), saw their sales fall year-over-year. Intrepid Potash's (IPI) sales fell 21%, FMC's (FMC) fell 17%, PotashCorp's (POT) fell 8%, and Mosaic's (MOS) fell 4%. Agrium (AGU), Israel Chemicals (ICL), and CF Industries (CF) all saw their sales fall 1%. This negative sales trend was reflected in the companies' stock performance for most of 2017. In contrast, CVR Partners' sales were flat, and Monsanto's sales grew 8%.
Drivers
Commodity businesses' (MOO) product price realizations played a key role in their 2017 sales performance. PotashCorp's sales fell as a result of fertilizer price weakness in 2017, and for seed company Monsanto, sales rose due to growth in its soybean, corn, and vegetable seed segments. Next, we'll look at these companies' sales drivers and 2018 outlook.