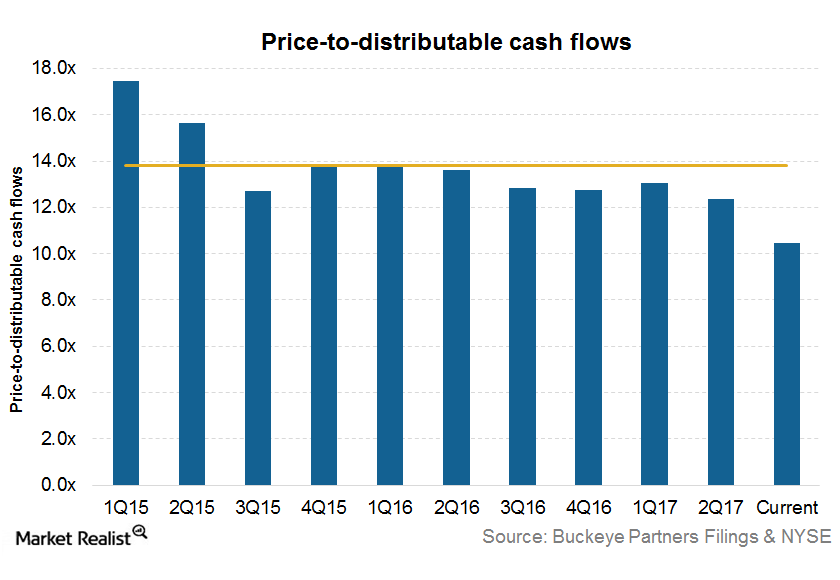 What Buckeye Partners' Current Valuation Indicates
Buckeye Partners' valuation
On October 31, 2017, Buckeye Partners (BPL) was trading at a price-to-distributable-cash-flow multiple of 10.4x, which is significantly below the historical ten-quarter average of 13.8x.
BPL's forward EV-to-EBITDA[1. enterprise value to earnings before interest, tax, depreciation, and amortization] multiple, which is based on the next-12-month EBITDA estimate, was 10.9x on October 31. This multiple is below the last five-year, two-year, and one-year averages of 13.5x, 12.3x, and 11.9x. respectively, and it is trading below the peer median multiple of 11.6x.
Article continues below advertisement
Buckeye Partners was trading at a distribution yield of 9.5% on October 31, which is above the historical five-year average of 6.8%. Among BPL's peers, Enbridge Energy Partners (EEP), Magellan Midstream Partners (MMP), and NuStar Energy (NS) are trading at yields of 9.3%, 5.3%, and 13.2%, respectively.
BPL's distribution yield is higher than the yields reported by the SPDR S&P 500 ETF (SPY) (1.9%) and the Alerian MLP ETF (AMLP) (8.0%).
BPL's current valuation could indicate a buying opportunity considering its strong refined products and NGLs transportation business, significant expansion plans, low leverage, and low cost of equity capital.
BPL's low valuation could reflect its declining Eagle Ford throughput volumes, direct commodity price exposure at its Merchant Services segment, and declining distribution coverage.
Analysts' ratings for Buckeye Partners
Of the analysts tracking Buckeye Partners, 57.1% rated it as a "hold" on October 31, 2017, while the remaining 42.9% rated it as a "buy." BPL's average target price of $67.70 implies ~26% upside potential from the current price levels.
Among BPL's peers, NuStar Energy and Magellan Midstream Partners have "hold" ratings from 77.8% and 43.8% of analysts, respectively. Plus, 57.9% of analysts rate Kinder Morgan (KMI) a "buy."
For more such analyses on master limited partnerships, you can refer to our Master Limited Partnerships page.