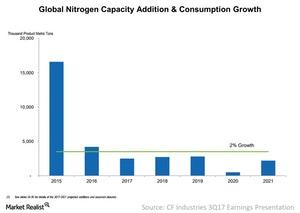 What to Expect from Nitrogen Fertilizers
By Adam Jones

Nov. 22 2017, Updated 7:34 a.m. ET
The nitrogen environment
During 3Q17, urea prices were stronger year-over-year. According to Agrium (AGU), urea prices were positively impacted by growth in demand from the Indian market as well as lower exports coming out of China. However, overall prices for nitrogen fertilizer were lower in the recent quarter due to pressure from excess supply.
Article continues below advertisement
Supply-demand outlook
Over the recent year, China has curtailed its urea production due to unsustainable producer economics, which saw higher production costs compared to selling prices. However, the recent strength in urea prices has failed to get the attention of Chinese producers. According to Agrium, the higher energy cost of coal has kept a lid on Chinese urea production activity.
Through the spring of 2018, Agrium believes that the market environment for urea will remain "relatively tight." The company bases its outlook on the continuation of strong demand from India, a seasonal deficit for urea in the US (XLB), and a weakness in supply from China.
In its 3Q17 earnings results, CF Industries (CF) also said that the global supply-demand dynamics for nitrogen will likely remain tight in 2018 due to expectations that the global supply addition will be slower than the annual nitrogen consumption growth of about 2% as the above chart suggests.
Price outlook
For the rest of 2017, PotashCorp expects prices to remain volatile. CF Industries expects this volatility to continue in 2018 as well, which may concern CVR Partners (UAN), PotashCorp (POT), and other companies. Between 2018 and 2021, some analysts expect that the capacity addition for urea will be lower than demand growth, which should support firmer prices.