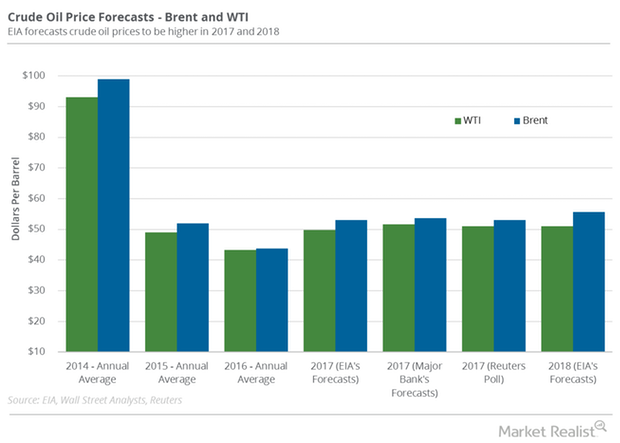 Hedge Funds Cut Their Net Long Positions before OPEC's Meeting
Hedge funds  
On November 27, 2017, the US Commodity Futures Trading Commission released its weekly "Commitment of Traders" report. Hedge funds cut their net bullish positions on US crude oil (USL) (UCO) futures and options by 5,872 contracts or 1.7% to 343,840 contracts on November 14–24, 2017. US crude prices rose 5.5% during the same period. Hedge funds' are reducing their net bullish positions in US crude oil (UWT) (DBO) futures and options ahead of OPEC's meeting. It signals that hedge funds are becoming cautious before OPEC's meeting. For more updates on OPEC's meeting, read the previous part of the series.
Article continues below advertisement
Crude oil inventories 
Bloomberg estimates that the crude inventories in Cushing, Oklahoma, would have fallen by 2 MMbbls (million barrels) on November 17–24, 2017. Wall Street analysts expect that US crude oil inventories would have fallen by 3.15 MMbbls during the same period. Any fall in Cushing and US crude oil inventories is bullish for crude oil prices. It benefits oil producers (IEO) (IXC) like Goodrich Petroleum (GDP), Carrizo Oil & Gas (CRZO), and Devon Energy (DVN).
Crude oil price forecasts 
Market intelligence company FGE forecast that Brent crude oil (BNO) prices could trade between $65 and $70 per barrel in 2018 if the current production cuts are extended for nine more months. According to the EIA, US and Brent crude oil prices could average $51.04 per barrel and $55.61 per barrel in 2018.
Read Is It a Big Week for the Crude Oil Market? and Risks in the US Natural Gas Market Next Week for the latest updates on oil and gas.