How Geopolitical Tensions Are Affecting Oil Prices
Supply outages in the Kurdistan region supported crude oil (BNO) (USO) (USL) prices last week.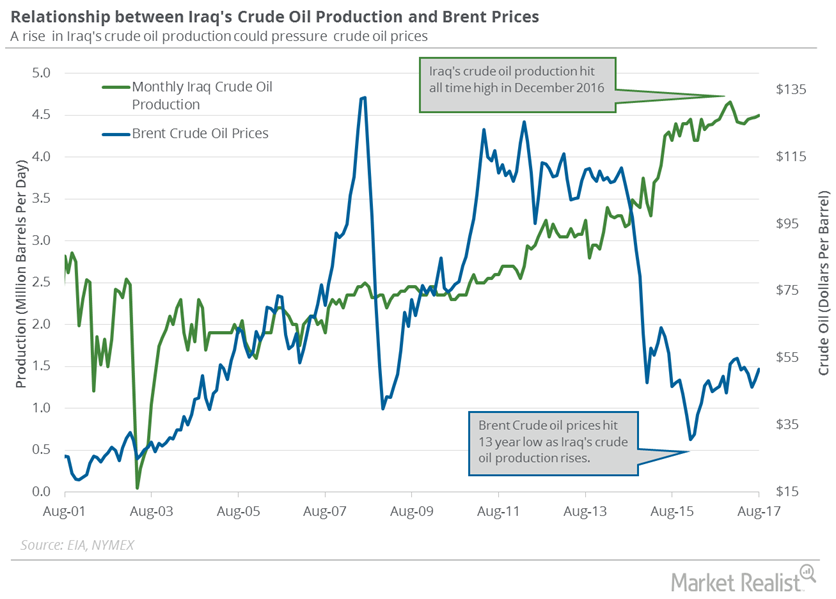 Crude oil futures
December US crude oil (UCO) (SCO) (OIL) futures contracts advanced 0.4% and were trading at $52.04 per barrel in electronic exchange at 2:15 AM EST on October 23, 2017. In contrast, December E-Mini S&P 500 (SPY) futures contracts fell 0.01% to 2,573.75 during the same time in electronic trading.
Moves in oil prices impact oil producers (XLE) (VDE) like Murphy Oil (MUR), Marathon Oil (MRO), Sanchez Energy (SN), and Goodrich Petroleum (GDP).
Article continues below advertisement
Article continues below advertisement
Supply outages in Kurdistan region 
Supply outages in the Kurdistan region supported crude oil (BNO) (USO) (USL) prices last week. Goldman Sachs said that the impact of geopolitical tensions in Iraq is not certain. Some sources say that supply disruptions in Kurdistan could have led to the fall in crude oil exports by 200,000 bpd (barrels per day) last week compared to the normal exports of ~550,000 bpd.
The Iraqi military said that it seized Batma and Ain Zala oil fields located in Zummar. Iraq's government requested oil major BP (BP) to develop the oil fields in Kirkuk in Kurdistan. Around 10% and 30% of Iraq's crude oil production and crude oil reserves come from Iraq's Kurdistan region, respectively. Meanwhile, on October 19, 2017, Chevron (CVX) said that the conflict between Kurdistan and Iraq has led to the shutting down of its production activity in Kirkuk.
Impact
Iraq and Kurdistan are dependent on crude oil export revenues. Their political tensions could be short-lived due to their financial obligations and high debt. Some traders believe that Iraq will have full control over the pipeline connecting Kurdistan to the Turkish port of Ceyhan by this weekend, which would ease the upward pressure on oil (BNO) (DBO) (UWT) prices. Changes in oil prices impact energy producers (VDE) (IYE) like Shell (RDS.A) and ExxonMobil (XOM).
Next, we'll look at how the US dollar influences crude oil prices.