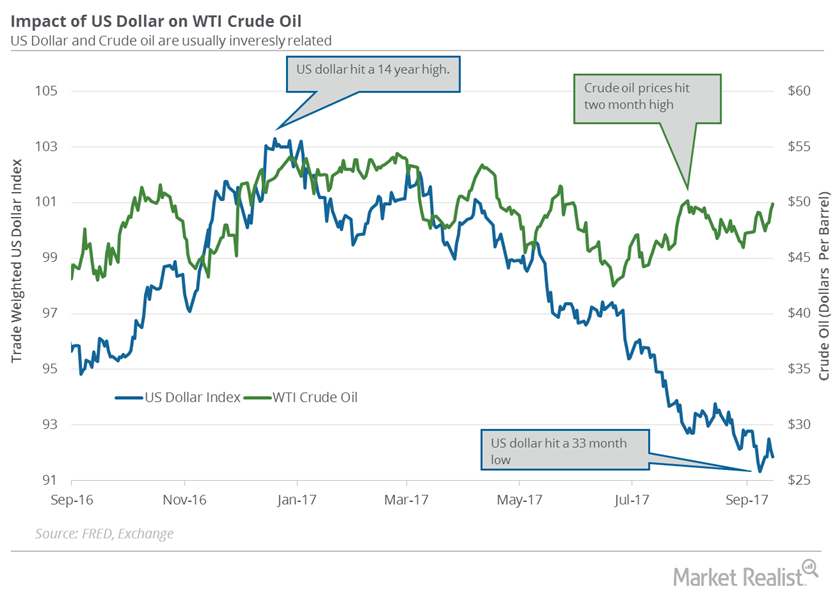 Will the FOMC Meeting Drive the US Dollar and Crude Oil Futures?
US dollar drivers last week 
The US Dollar Index fell 0.27% to 91.86 on September 15. It's near a 33-month low. Prices fell due to the surprise decline in US retail sales in August. US retail sales fell due to Hurricane Harvey by 0.2% in August, compared with a market expectation of a rise of 0.1%.
North Korea tested another missile on September 15, which also pressured the US dollar (UUP). The euro is near a 30-month high, which also weighed on the US dollar.
Article continues below advertisement
US dollar drivers this week 
The Federal Open Market Committee meeting is scheduled for Tuesday, September 19. The Fed is expected to reduce its balance sheet. There's less or no chance of any hike in the US interest rate at this meeting. The uncertainty over the rate hike could pressure the US dollar.
US dollar year-to-date performance
The US dollar has fallen ~12.1% year-to-date. The dollar has depreciated due to President Trump's inability to deliver on planned tax subsidies and infrastructure reforms and other drivers we discussed above.
Article continues below advertisement
US dollar highs and lows 
The US dollar hit a low of 90.99 on September 8, 2017—the lowest level since January 2015. On the other hand, the US dollar hit a high of 103.8 on January 3, 2017—the highest level in 14 years.
Relationship between US dollar and crude oil  
Impact 
Expectations of a weak dollar could benefit crude oil (UWT)(DWT) prices. Higher crude oil prices have a positive impact on oil producers like Goodrich Petroleum (GDP), Exxon Mobil (XOM), Hess (HES), and Bonanza Creek Energy (BCEI).
In the next part of this series, we'll analyze crude oil price movements in the last 18 months.