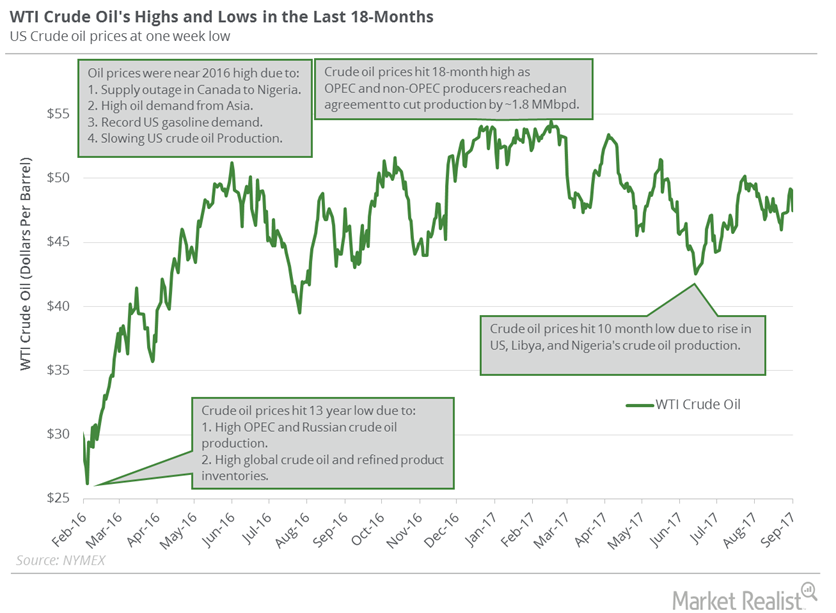 What to Watch: This Week's Key Crude Oil Price Drivers
Energy calendar this week 
Let's track some important events for crude oil and natural gas traders from September 11 to 15, 2017.
Tuesday, September 12: The American Petroleum Institute's crude oil and gasoline inventory report
Tuesday, September 12: OPEC's (the Organization of the Petroleum Exporting Countries) "Monthly Oil Market Report"
Tuesday, September 12: The US Energy Information Administration's (or EIA) "Short-Term Energy Outlook" report
Wednesday, September 13: The EIA's crude oil inventory report
Wednesday, September 13: The International Energy Agency's (or IEA) monthly "Oil Market Report"
Thursday, September 14: The EIA's weekly natural gas storage report
Friday, September 15: Baker Hughes's US oil rig count report
Article continues below advertisement
Crude oil price drivers for this week 
WTI crude oil (IXC)(IYE) (FENY) prices are at a one-week low. Prices could fall this week due to weak demand due to hurricanes Harvey and Irma. But a fall in US and OPEC crude oil production could support crude oil prices.
Higher crude oil (DBO)(DIG)(USL) prices have a positive impact on oil and gas producers such as Bill Barrett (BBG), Hess (HES), and Bonanza Creek Energy (BCEI).
US crude oil price forecasts 
A Wall Street Journal survey of major banks predicts that US crude oil prices will average $51 per barrel in 2018—$2 per barrel lower than the previous estimates. Major banks downgraded their forecasts on oil prices for a fourth straight month on August 31.
In the next part of this series, we'll see how Cushing crude oil inventories impact prices.