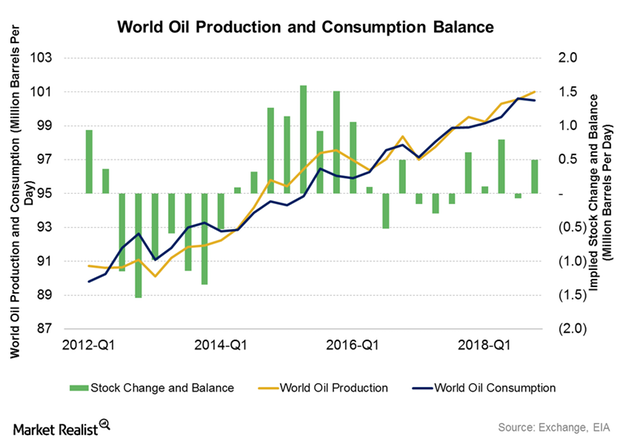 Inside the Global Crude Oil Supply-Demand Gap
Crude supply-demand gap
The EIA (US Energy Information Administration) estimated that the global crude oil supply-demand gap averaged 0.58 MMbpd (million barrels per day) in 1H16. However, global crude oil demand outpaced supply by 0.22 MMbpd in 1H17.
The global supply-demand gap is thus tightening due to major oil producers' output cut deal and improving global crude oil demand. This tightening has supported Brent (BNO) and US crude oil (USO) (UCO) prices, which have risen 24% and 17%, respectively, in the past three months.
Article continues below advertisement
Global crude oil demand per IEA 
The IEA (International Energy Agency) estimates that the global supply-demand balance is tightening. It estimates that global crude oil demand rose 2.3 MMbpd, or 2.4% YoY (year-over-year), to 97.9 MMbpd in 2Q17.
Global crude oil supply and demand gap estimates
The EIA estimates that global crude oil demand could outpace supply by 0.16 MMbpd in 3Q17, but global crude oil supply could outstrip demand again by an average 0.61 MMbpd (million barrels per day) in 4Q17.
Impact
Oil prices were under tremendous pressure in 2016 and early 2017, until the supply and demand gap narrowed in 1H17. Any rise in US crude oil production and US crude oil inventories could add to global supplies, and any rise in crude oil production in Libya, Nigeria, Iran, Iraq, Canada, and Brazil could also add to global supplies.
The possible extension of the output cut deal could offset some of the rise in supplies for the above countries. However, if supply outstrips demand, as estimated by the EIA, it could pressure crude oil (BNO) (USO) prices.
In the next part of this series, we'll discuss how India's crude oil imports and demand impact crude oil prices.