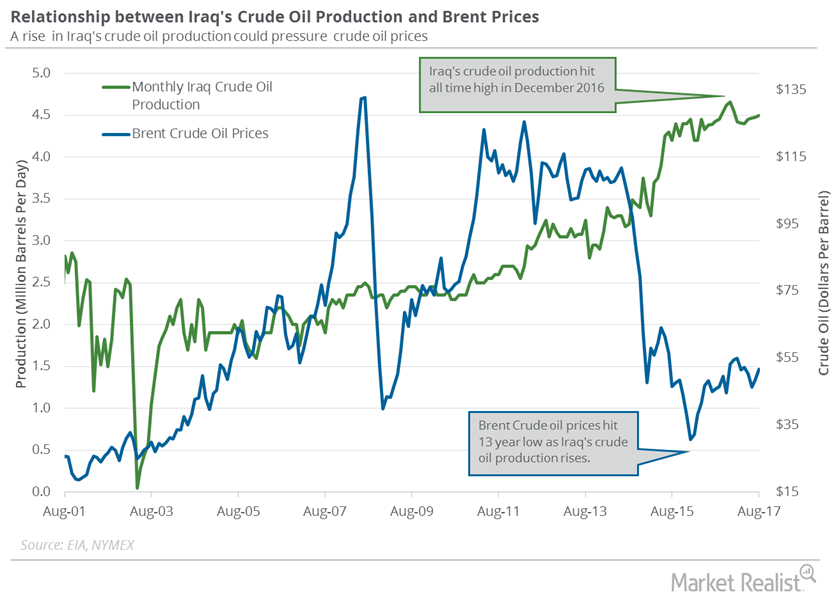 Why Kurdish Regions Are Crucial for Iraq's Crude Oil Exports
Iraq's crude oil production 
Iraq is the second-largest OPEC producer. The EIA (U.S. Energy Information Administration) estimates that Iraq's crude oil production rose by 25,000 bpd (barrels per day) to 4,500,000 bpd in August 2017 from the previous month. Production rose 0.6% month-over-month and 70,000 bpd or 1.5% year-over-year. Production rose despite a production cut deal.
Iraq's crude oil production hit 4,660,000 bpd in December 2016, which is the highest level ever. High crude oil production from Iraq is bearish for crude oil (BNO)(USO)(SCO) prices. Lower crude oil prices have a negative impact on oil producers like Saudi Aramco, National Iranian Oil Company, Qatar Petroleum, and Oman Oil Company.
Article continues below advertisement
Iraq and Kurdistan 
Kurdistan is an autonomous region in the north of Iraq. The people of the Kurdish region voted in a referendum on independence on September 25.
Consequently, Turkey threatened to block 700,000 bpd (barrels per day) of crude oil flowing through oil pipelines across its land from Iraq's Kurdistan region to the outside world. Iraq, Turkey, and Iran oppose the Kurdish independence referendum.
Iraq and Kurdistan's crude oil production 
The Kurdish region contributes to 10% of Iraq's crude oil production. It also has 650,000 bpd in crude oil reserves, which is about one-third of Iraq's crude oil reserves.
A split between Iraq and Kurdistan could lead to a supply outage, which could lead in turn to a drop in not only Iraq's crude oil production and exports but also global supplies if an independent Kurdistan's oil isn't allowed to get to the global market. Brent and US crude oil prices (USO)(UCO)(UWT) rose on September 25 due to the possibility of a supply outage.
In the next part of this series, we'll see how President Trump could impact Iran's crude oil production and, therefore, global oil prices.