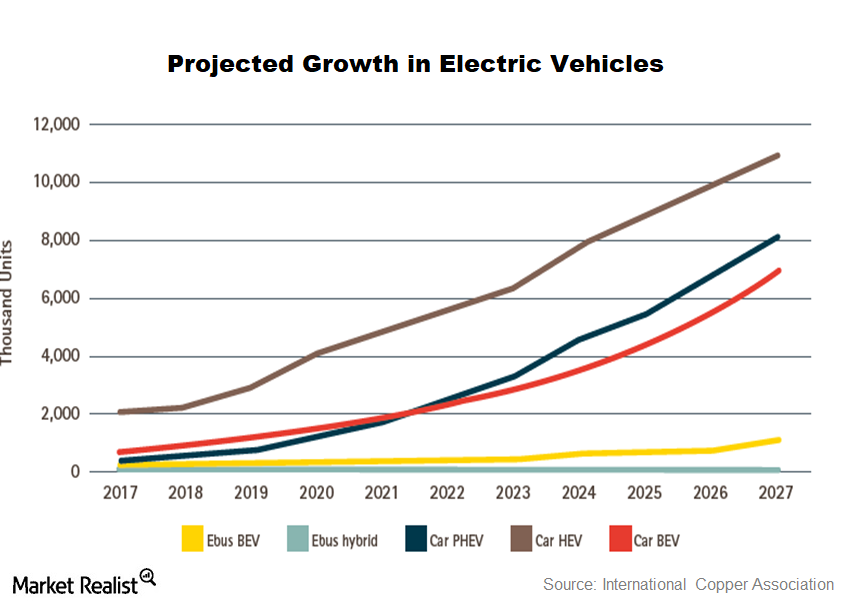 How Freeport-McMoRan Benefits from Electric and Hybrid Vehicles
Freeport-McMoRan
The automotive industry is among the world's biggest copper consumers. Copper is used in a variety of auto parts such as radiators, motors, brakes, and bearings.
According to the International Copper Association, 23 kilograms (or kg) of copper is used in an internal combustion engine vehicle. However, a hybrid electric vehicle uses 40 kg of copper. Copper content is even higher in plug-in hybrid electric vehicles and battery electric vehicles, at 60 kg and 83 kg, respectively.
Article continues below advertisement
Article continues below advertisement
Electric cars
We've seen a big push for electric vehicles on a global scale, and several governments are committing themselves to fully electric fleets. The growing electrification of cars is expected to support copper demand. Not only is copper content higher in electric vehicles, but these vehicles would also require an expanded charging infrastructure as the electric car fleet grows globally.
Charging networks would also boost copper demand. Higher copper demand is positive for miners like Freeport-McMoRan (FCX), Southern Copper (SCCO), and Glencore International (GLNCY).
Tesla
While electric vehicles have been around for a long time, the concept gained popularity with Tesla (TSLA) vehicles. In addition to its premium vehicles, the company is now offering its mass-market Model 3, which analysts see as its key growth driver.
The growing demand for renewable energy generation is expected to support global copper demand. Although the United States (SPY) (SPX-INDEX) has withdrawn from the Paris climate accord, other nations are committed to the deal.
Investments in renewable energy bode well for global copper demand, as the copper intensity in renewable energy is higher than in non-renewable energy.
While copper's long-term outlook looks bullish, some analysts are concerned about its short-term outlook. In the next article, we'll look at the short-term challenges facing copper.