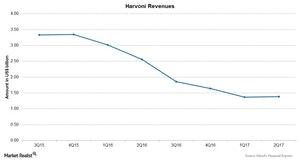 How Did Gilead's Blockbuster Drug Harvoni Perform in 2Q17?
Gilead's Harvoni 
Harvoni is the top-selling drug in Gilead Sciences' (GILD) portfolio. The drug is used for the treatment of genotype-1 hepatitis C virus (or HCV) infection. Harvoni is a combination of two drugs, 90 mg of Ledipasvir and 40 mg of sofosbuvir.
The above chart shows revenues for the drug Harvoni over the last few quarters.
Article continues below advertisement
Importance of Harvoni
Harvoni contributed ~21% of Gilead's total revenues in 2Q17. The drug is used with or without Ribavirin for the treatment of chronic hepatitis C virus genotype-1, genotype-4, genotype-5, and genotype-6 infections. Clinical studies have shown that over 96% of patients with genotype-1 hepatitis C virus infections with or without cirrhosis and no prior treatments have been cured with once-daily treatments of Harvoni for 12 weeks.
Harvoni revenues  
Harvoni reported revenues of $1.4 billion during 2Q17, a 46% decline in revenues as compared to $2.6 billion during 2Q16. The decline was driven by competition from other drugs due to patent expiry of Harvoni.
The US sales for Harvoni were $984 million during 2Q17, while the Harvoni sales for European markets were $230 million, and rest of the world sales were $168 million.
Gilead introduced its new drug, Epclusa, a combination of 400 mg of Sofosbuvir and 100 mg of Velpatasvir, in 2016. Epclusa is a drug for the treatment of patients with chronic genotype-1 through genotype-6 hepatitis C infections with or without cirrhosis. The drug is used in combination with Ribavirin for the treatment of patients with advanced cirrhosis. Epclusa revenues were $1.2 billion during 2Q17 as compared to $64 million in 2Q16.
Some other drugs for the treatment of the Hepatitis C virus infection include AbbVie's (ABBV) Technivie, Bristol-Myers Squibb's (BMY) Daklinza, and Johnson & Johnson's (JNJ) Olysio.
To divest the company-specific risks, investors can consider ETFs like the PowerShares Dynamic Biotechnology and Genome ETF (PBE), which holds 5.4% of its total assets in Gilead Sciences. PBE also holds 5.3% in Biogen (BIIB), 2.8% in Myriad Genetics (MYGN), and 5.1% in Celgene (CELG).