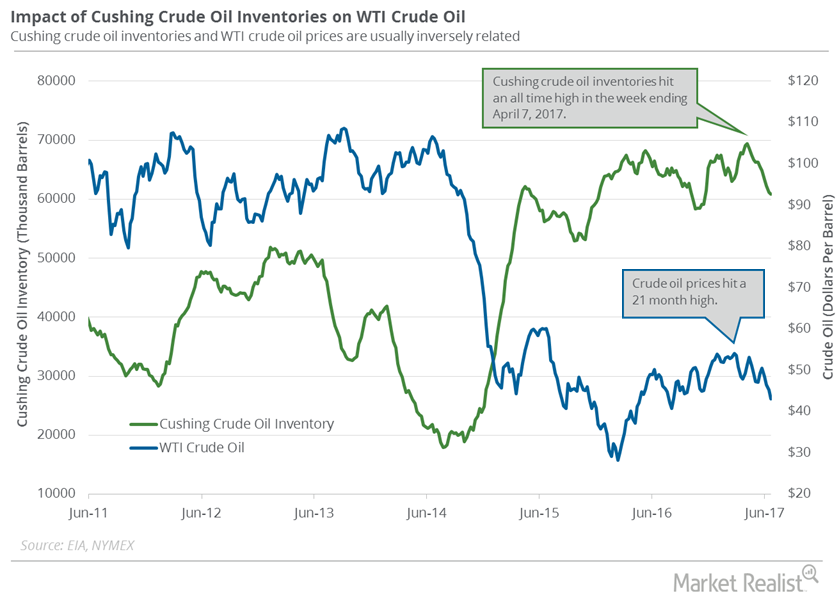 Cushing Inventories Have Fallen 10% in the Last 10 Weeks
Cushing crude oil inventories 
A market survey estimates that Cushing inventories could have fallen on June 23–30 2017. Cushing crude oil inventories have fallen by 7.8 MMbbls (million barrels) or 10% in the last ten weeks. A better-than-expected fall in Cushing inventories could support US crude oil (IXC) (IYE) (PXI) prices this week.
The rollercoaster ride in crude oil prices impacts oil and gas producers like ConocoPhillips (COP), PDC Energy (PDCE), Cobalt International Energy (CIE), and Continental Resources (CLR).
Article continues below advertisement
EIA's crude oil inventory report 
On July 6, 2017, the EIA (U.S. Energy Information Administration) will release its weekly petroleum status report for the week ending June 30, 2017.
For the week ending June 23, 2017, the EIA reported that Cushing crude oil inventories fell by 0.29 MMbbls or 0.5% to 60.8 MMbbls. Inventories fell 5.3% from the same period in 2016. US crude oil inventories rose by 0.1 MMbbls to 509.2 MMbbls on June 16–23, 2017. For more on nationwide crude oil inventories, read US Crude Oil Inventories Rose for the Second Time in 10 Weeks.
Impact 
Cushing crude oil inventories are the largest crude oil storage hub in the US. Cushing inventories have fallen 12.4% from the peak on April 7, 2017. They also fell for the eleventh time in the last 15 weeks. The expectation of a fall in Cushing crude oil inventories due to peak summer demand could support crude oil prices this summer. For more on bullish drivers, read Part 1 of this series.
Next, we'll analyze the US crude oil rig count last week.