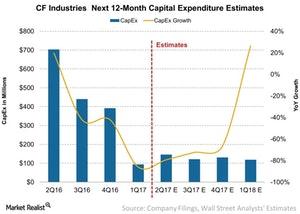 Capital Expenditure Expectations for CF Industries in 2Q17
Capital expenditure
CF Industries (CF) is expected to see a significant reduction in its capital expenditure (or capex) year-over-year (or YoY) in 2Q17 and for the next four quarters.
As fertilizer companies (MOO) such as CF Industries, PotashCorp (POT), Agrium (AGU), and Intrepid Potash (IPI) rationalize their capacities, it wouldn't be surprising to see new capex commitments from these companies.
Article continues below advertisement
Analysts' estimates
For 2Q17, analysts expect CF Industries to report capex of $145 million, a fall of ~80% YoY compared to its capex of $703 million in 2Q16. This capex will likely go toward maintenance. For the next four quarters, the company's capex is expected to fall to $516 million YoY, compared to $1.7 billion in 2Q16.
Despite excess capacity in the market, 2017 is expected to see significant ammonia capacity additions, according to PotashCorp (POT). These capacity additions are projects that were initiated a few years ago. Most of these additions will likely take place in the United States, where CF Industries, Terra Nitrogen (TNH), and CVR Partners (UAN) are active.
While falling fertilizer prices have led some nitrogen players (NANR) to abandon their expansion projects, the net capacity addition is expected to be positive in 2017. This trend is expected to continue in 2018 and 2019.
To read more about the outlook on capacity additions, read An Outlook on Global Fertilizer Capacity Additions. In the concluding article of this series, we'll discuss CF Industries' valuation compared to those of its peers.