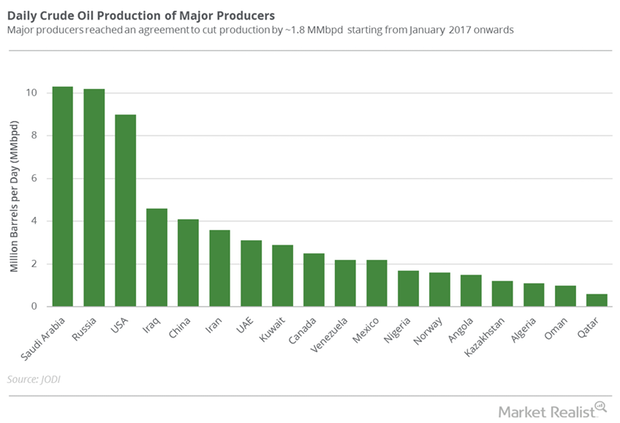 All Eyes on the OPEC and Non-OPEC Monitoring Meeting
US crude oil futures 
September WTI (West Texas Intermediate) crude oil (RYE)(VDE)(UCO) futures contracts fell 2.5% to $45.77 per barrel on July 21, 2017. Likewise, September Brent crude oil futures also fell 2.5% to $48.06 per barrel on July 21, 2017.
US and Brent crude oil futures fell 2.1% and 1.7%, respectively last week. Prices fell due to the following factors.
A market survey predicts that OPEC's crude oil production rose in July 2017. It could be the highest level so far in 2017.
Experts expect lower compliance for the production cut deal in 2017.
Some traders believe that production cut deal may not be able to remove excess oil from the market.
Crude oil production in Libya, Nigeria, and Iran should rise.
US crude oil exports should rise.
Crude oil prices are near a ten-day low. Volatility in crude oil prices impacts oil and gas producers like Carrizo Oil & Gas (CRZO), Exon Mobil (XOM), Chevron (CVX), and Denbury Resources (DNR). However, crude oil prices could rise due to bullish momentum in the S&P 500 Index (SPY)(SPX-INDEX) and a 13-month low for the US dollar (UUP).
For more on bullish and bearish crude oil drivers, see US and OPEC: Will Crude Oil Futures Sustain the Rally?
Article continues below advertisement
OPEC and non-OPEC monitoring meeting on July 24, 2017
An OPEC and non-OPEC monitoring committee meeting will take place today, on July 24, in Russia. The meeting will discuss continuing production cuts and the rise in production from Nigeria and Libya. Nigeria and Libya crude oil production has risen by an average of 300,000–500,000 bpd (barrels per day) since January 2017. These countries were exempt from the deal due to political and economic instability.
OPEC and non-OPEC meeting outcome  
Wall Street analysts believe there's little chance of deeper or longer production cuts from this meeting. As a result, this meeting may not drive crude oil prices. Kuwait's OPEC governor thinks it will be too early to cut or cap Nigeria or Libya's crude oil production. Some analysts believe Libya and Nigeria's production may be capped at the November 2017 OPEC meeting.
Impact  
Any rise in production from Nigeria and Libya would pressure crude oil prices. However, higher compliance from OPEC members would support oil prices. Higher crude oil (RYE)(VDE)(UCO) prices would help US shale oil producers.
In the rest of this series, we'll discuss crude oil price drivers in more detail.