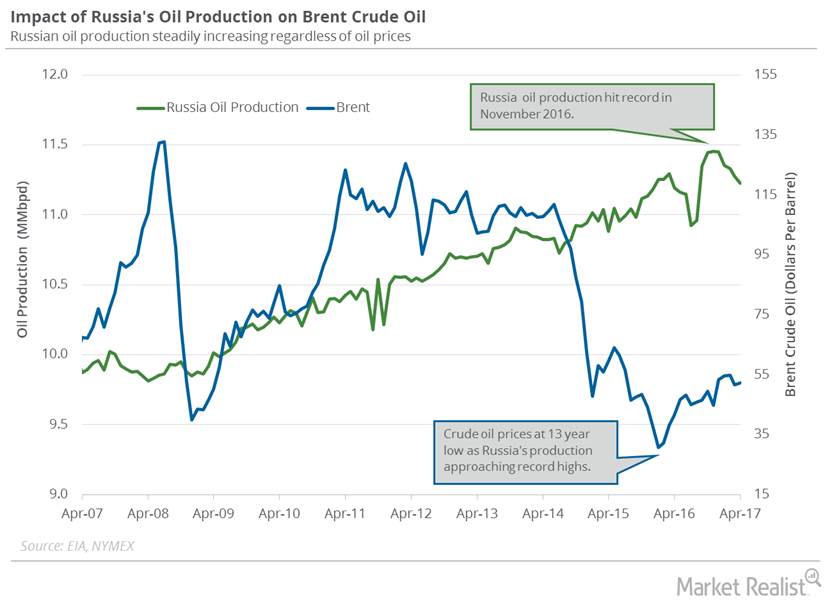 Russia Could Leave OPEC's Production Cut Deal
OPEC and Russia 
OPEC and Russia contribute to more than 40% of the global crude oil production. OPEC and Russia extendedMay 25, 2017March 2018 the production cut deal until March 2018 at OPEC's meeting on extendedMay 25, 2017March 2018. Since OPEC's meeting, US crude oil (UCO) (IXC) (DIG) (VDE) prices have fallen 7.6%.
Rosneft is Russia's largest oil producer. On June 1, 2017, a Rosneft board member stated that Russia wouldn't extend the production cut deal beyond extendedMay 25, 2017March 2018.
Article continues below advertisement
It suggests that Russia's production could rise in 2018, which would increase supply in the oil market and pressure oil prices. Lower crude oil prices could have a negative impact on oil and gas producers' earnings such Goodrich Petroleum (GDP), Cobalt International Energy (CIE), and Continental Resources (CLR).
In November 2016, Russia pledged to reduce its crude oil production by 300,000 bpd (barrels per day) from its record of 11.3 MMbpd (million barrels per day) in October 2016. High compliance from Russia towards the production cut deal could see Russia's production average around 11 MMbpd in 2017. The Russian Energy Ministry expects crude oil prices to average $50 per barrel–$60 per barrel in 2017.
Impact 
High compliance from OPEC and Russia could support oil prices in 2017. However, the rise in production from the US, Brazil, Canada, Nigeria, and Libya could delay rebalancing in the oil market. The rise in production from OPEC in 2018 would also add more pain for oil prices. Read What Could Offset OPEC's Crude Oil Production Cut Deal? to learn more.
In the next part, we'll discuss some crude oil price forecasts.