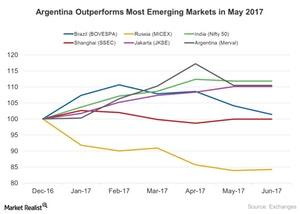 Is Argentina Outperforming Emerging Markets in June 2017?
Argentina equity performance
Recently, Argentinian equities (ARGT) took a hit as MSCI announced that Argentina would remain in its frontier market category on June 20, 2017. The Merval Index, Argentina's benchmark index, rose about 6% in May 2017. However, the losses so far in June have reversed the gains of the previous month. In June 2017, the Merval Index has dropped ~5% as of June 23.
Argentina's economy seemed to be one step closer to regaining its status as an emerging market participant with investor-friendly reforms in June 2017. According to MSCI's announcement, Argentina needed more improvements and time to prove the stability of its reforms. The next review is in 2018, which could again provide an opportunity for Argentina to move up to emerging market status (EEM) from frontier market status (FM). Let's look at the performance of the Merval Index as compared to the emerging markets indexes in 2017 in the below chart.
Article continues below advertisement
Argentina's market performance
The Merval Index has risen about 10.5% so far in 2017 as of June 23. President Macri's efforts to revive the economy and improve investor confidence seem to be resulting in a solid stock market performance so far this year.
The Merval Index is outperforming most of the emerging market (EEM) indexes after closely following the Indian market index in 2017. The India Nifty Index (INDA) rose about 11% so far in 2017, as of June 23. Indonesian Index followed the Merval Index with gains of about 10.1% in the same period. Brazil (EWZ) and China (FXI) have been the laggards and haven't seen significant gains so far in 2017. The Russian (ERUS) index has seen the worst performance with losses of about 16% in the same period.
The country-specific ETF, the Global X MSCI Argentina ETF (ARGT), has risen about 28% so far in 2017 as of June 23. However, ARGT dropped by about 3% between the beginning of May 2017 and June 23, 2017. The drop was primarily due to MSCI's announcement it would continue to keep Argentina out of its emerging market index.
Let's look at the economic growth in Argentina in our next article.