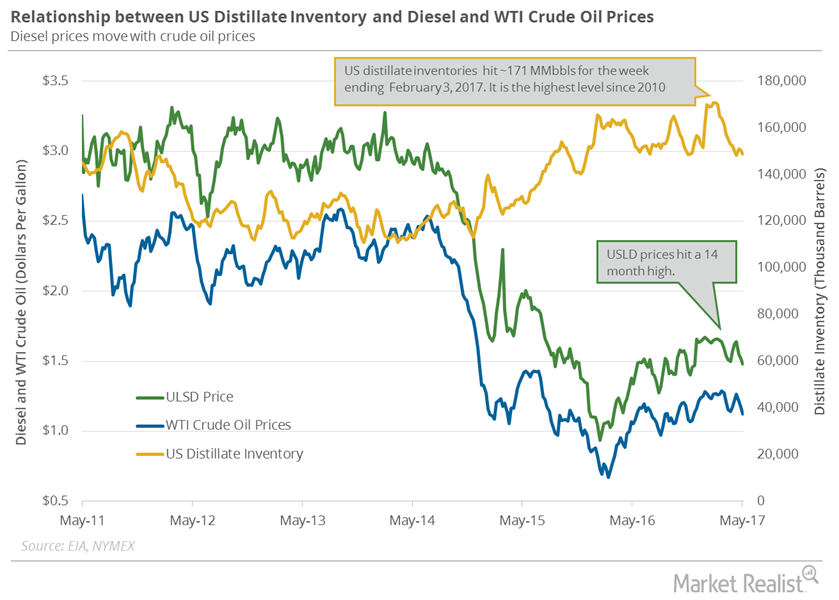 Why Did US Distillate Inventories Fall Again?
By Gordon Kristopher

Nov. 20 2020, Updated 4:15 p.m. ET
US distillate inventories  
The EIA (U.S. Energy Information Administration) reported that US distillate inventories fell by 1.6 MMbbls (million barrels) to 148.8 MMbbls between April 28, 2017, and May 5, 2017. Surveys estimated that US distillate inventories would have fallen by 1 MMbbls for the same period. US distillate inventories fell for the 12th time in 13 weeks.
June diesel futures contracts rose 2.1% to $1.47 per gallon on May 10, 2017. Prices rose due to the larger-than-expected fall in distillate inventories. Crude oil (FENY) (DIG) (XLE) (FXN) and diesel futures moved together on May 10, 2017.
Article continues below advertisement
Diesel prices usually move together with crude oil prices, as shown in the following chart. Moves in crude oil and diesel fuel prices impact US refiners and crude oil producers' earnings like Western Refining (WNR), Valero Energy (VLO), PDC Energy (PDCE), Continental Resources (CLR), and Denbury Resources (DNR). For more on crude oil prices, read Part 1 of this series.
Distillate production and demand  
US distillate production rose by 145,000 bpd (barrels per day) to 4,956,000 bpd between April 28, 2017, and May 5, 2017. US distillate imports rose by 3,000 bpd to 115,000 bpd for the same period. Weekly distillate demand fell by 117,000 bpd to 4,139,000 bpd during the same period.
Impact  
US distillate inventories hit 170.7 MMbbls in the week ending February 3, 2017—the highest level since 2010. Since then, they have fallen ~12.8%. Falling distillate inventories are bullish for diesel prices. A rise in diesel prices is bullish for crude oil prices.
For more on crude oil prices, read Why Hedge Funds Are Cautious about Crude Oil and Why OPEC Needs to Extend Production Cut Deal beyond 2017.
Read Will Crude Oil Prices Test 3 Digits Again? for more on crude oil price forecasts.
For related analysis, visit Market Realist's Energy and Power page.