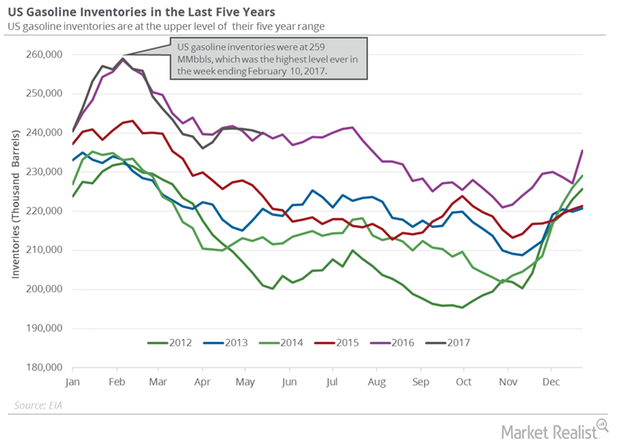 US Gasoline Inventories Fell Less, Pressured Gasoline Prices
US gasoline inventories 
The EIA released its weekly crude oil report on May 24, 2017. It reported that US gasoline inventories fell by 0.8 MMbbls (million barrels) to 239.9 MMbbls on May 12–19, 2017. A market survey estimated that inventories would have fallen by 1.2 MMbbls between May 12, 2017, and May 19, 2017.
Gasoline futures fell 0.5% to $1.62 per gallon on May 24, 2017, due to the less-than-expected fall in gasoline inventories. Likewise, crude oil (PXI) (USL) (VDE) prices fell on May 24, 2017.
The rollercoaster ride in gasoline and crude oil prices impacts oil and gas exploration and production companies and refiners' profitability like Western Refining (WNR), Valero Energy (VLO), Swift Energy (SFY), Phillips 66 (PSX), and Denbury Resources (DNR).
Article continues below advertisement
Gasoline production, imports, and demand 
The EIA estimates that US gasoline production fell by 223,000 bpd (barrels per day) to 10,243,000 bpd between May 12, 2017, and May 19, 2017. US gasoline production rose 2.2% for the week ending May 19, 2017—compared to the previous week. Gasoline production has risen 3.8% YoY (year-over-year). The IEA added that US gasoline imports rose by 29,000 bpd to 725,000 bpd during the same period. Gasoline demand rose by 252,000 bpd to 9,704,000 bpd.
Impact of gasoline inventories  
US gasoline inventories are 7.4% below their all-time high. US gasoline inventories fell for the third consecutive week. The fall in gasoline inventories could support gasoline futures, which could have a bullish impact on crude oil prices.
For more on crude oil prices, read Crude Oil Market Could See Turmoil Later in 2018 and Crude Oil Futures Could Skyrocket after OPEC's Meeting.
Read Will Crude Oil Prices Test 3 Digits Again? for more on crude oil price forecasts.
For related analysis, visit Market Realist's Energy and Power page.