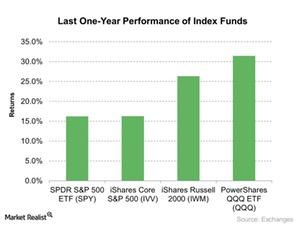 Why Jeffrey Gundlach Believes Passive Investing Doesn't Exist
By Sarah Sands

Updated
Jeffrey Gundlach on passive investment
Jeffrey Gundlach shared his views on passive and active investment strategies at the 2017 Sohn Investment Conference. He believes that funds flowing into active and passive investment management are deciding market valuations (SPX-INDEX) (COMP-INDEX).
He said, "When emerging markets outperform the S&P 500, active is outperforming the S&P 500." This indicates that active management is outperforming the S&P 500 Index (QQQ) (IVV) in the current scenario. However, a lot of money invested in passive management has pushed the S&P 500 index up. But Gundlach believes the passive investment strategy doesn't exist and that it's a myth.
Article continues below advertisement
When investors have a passive investment strategy, they are believing in the index fund that tracks the performance of the top 500 stocks in the United States (VFINX). However, Gundlach believes that isn't true. There are some stocks that active fund managers are beating with higher returns. Active fund management needs a high quality of research and a high quality of analysis. He believes this process will outperform the market.
Gundlach also said that investors are blindly believing in the passive investment strategy. He believes an active management strategy will perform better in the current investment scenario if emerging markets outperform the S&P 500 Index (IWM). He suggests that investors choose the best stocks in the S&P 500 Index.
In the next part of this series, we'll analyze David Einhorn's investment picks.