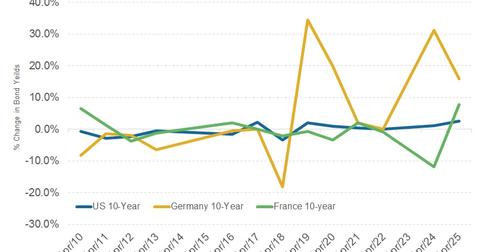 How Did Fixed Income Markets React to the First Round?
By Ricky Cove

Updated
Yields moved higher 
US Treasury yields (GOVT) were pushed higher, supported by the rally in equity markets after France's election results. In the US, there are Treasury auctions with over $200 billion on offer this week. The offered securities include two-year (SHY), five-year, and seven-year (IEF) Treasury notes. Yields will likely remain on the positive side in the near term if the rally in equities continues. Markets will likely be focused on earnings news this week.
Article continues below advertisement
Demand for fixed income securities will likely be subdued because of excess supply this week, which would mean additional support for bond yields (BWX). Another important factor for investors to watch out for would be the debt limit. The debt limit has to be raised to keep bonds on the table. The debt limit or the US debt ceiling is a legislative limit on the amount of debt that can be issued by the US Treasury. The debt limit has always been approved without much resistance. It's the first time that the debt limit will be raised under President Trump. The debt ceiling rose five times during President Obama's tenure. Under President Trump, with his expansionary fiscal spending proposals, we might have to visit the possibility more often. It would add selling pressure on the bond market (IGOV) and would likely move yields higher.
Gilts, bunds, and the French elections
The focus was on European fixed income markets after the first round of France's election. Bunds are German government bonds, while gilts are issued by the United Kingdom (VEA) to raise funds. After the first round of France's election, ten-year bund yields rose by more than 12 basis points or 0.36%. Gilt yields rose by 4 basis points or 1.1%. Yield spreads between leading European Union nations and peripheral countries like Italy, Spain, and Portugal are reducing as fears of a European breakup receded after the election results.
Series summary
Overall, markets celebrated Macron's lead in France's presidential election. Markets are shifting their focus to earnings and macroeconomic indicators. Election anxiety will likely return as we move closer to the second round in France's election on May 7.