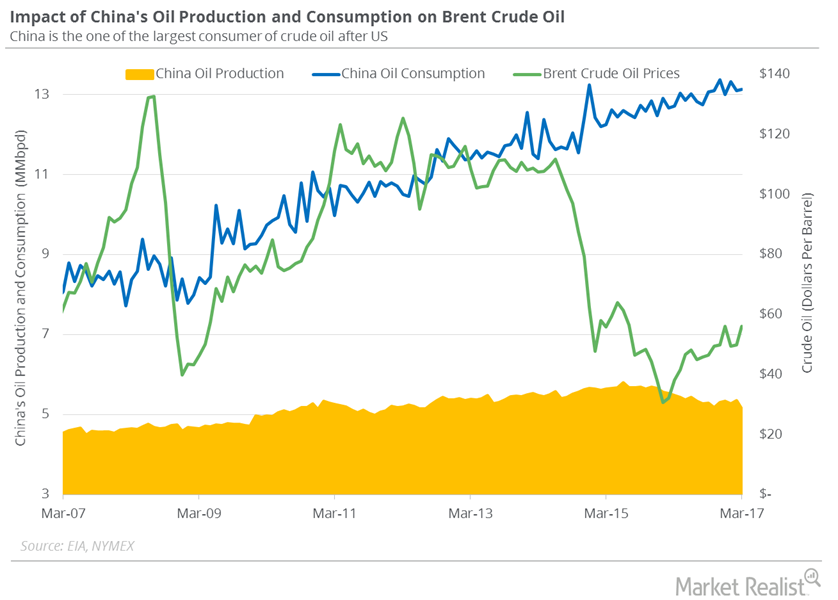 China's Crude Oil Imports Hit a New Record
China's crude oil imports
China's General Administration of Customs reported that China's crude oil imports rose to 9.21 MMbpd (million barrels per day) in March 2017. China's crude oil imports rose 10.7% month-over-month and 19.4% YoY (year-over-year). Imports rose due to the rise in demand from its teapot refineries. Imports are at the highest level ever. The previous high was in December 2016 when imports were at 8.6 MMbpd. The rise in crude oil imports from China supports crude oil (XLE) (XOP) (USO) (UCO) prices. China is the second-largest crude oil consumer after the US.
China's crude oil imports averaged 7.6 MMbpd in 2016—13.2% higher than 2015.
Article continues below advertisement
China's crude oil imports and demand 
China's crude imports will rise 5.3% to 8 MMbpd in 2017, according to China National Petroleum. It also added that China's crude oil consumption will rise 3.4% to 12 MMbpd in 2017.
China's crude oil production fell 4.6% YoY to 3.9 MMbpd in March 2017. Slowing Chinese crude oil production due to aging could also increase China's crude oil imports.
The EIA estimates that China plans to build 500 million barrels of strategic crude oil reserve space by 2020. It could also add to imports.
Demand from teapot refineries could support oil imports in 2017.
China's fuel exports hit a record high at 1.06 MMbpd in 1Q17—22% higher than the same period in 2016. The rise in Chinese fuel exports will put pressure on refined product margins. To learn more, read How Lower Refinery Margins Impact Crude Oil Prices.
Impact on crude oil, energy stocks, and ETFs