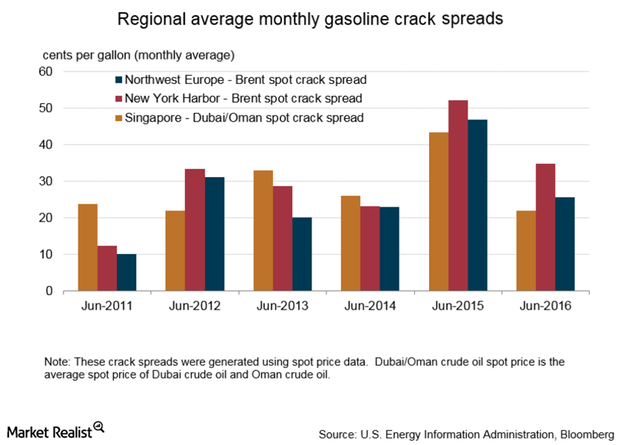 How Lower Refinery Margins Impact Crude Oil Prices
Refinery margins 
Gasoline production increased due to lower crude oil prices in 2015 and 1H16. This stemmed from higher refinery margins for oil refiners. As a result, gasoline production increased in the US, Europe, and Asia. But the consequent surge in global gasoline production and high gasoline inventories, in turn, led to the decline in US and global refinery gasoline margins.
Article continues below advertisement
Crack spreads
The EIA (US Energy Information Administration) states that crack spreads are differences between wholesale petroleum product prices (usually gasoline and distillate fuel) and crude oil prices. These crack spreads are used to estimate the refining margins.
Lower refinery margins mean that refineries will not be motivated to produce more gasoline or petroleum products. Consequently, this impacts the demand for crude oil. (For more on US crude oil refinery demand, read "Did US Refinery Crude Oil Demand Affect US Crude Oil Inventories?")
The above chart shows the decline in refinery gasoline margins in June 2016, as compared to the same period 2015. (For more on gasoline and distillate prices, read "Why Are Gasoline Prices Falling Again?" and "US On-Highway Diesel Fuel Prices Fell for the 6th Straight Week.") High gasoline refineries will also lead to much earlier maintenance of refineries and impact demand for crude oil.
Impact on crude oil
Low refinery margins and scheduled refinery maintenance by the US and China could pressure crude oil prices. And remember, low crude oil prices have a negative impact on oil producers like Stone Energy (SGY) and WPX Energy (WPX). The ups and downs in crude oil prices also impact funds like the VelocityShares 3x Long Crude Oil ETN (UWTI) and the PowerShares DWA Energy Momentum ETF (PXI).
In the next and final part of this series, we'll take a look at some crude oil price forecasts.