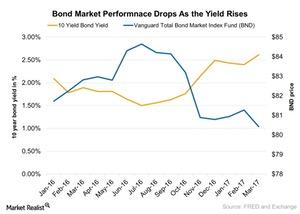 Why Bond Yields Are Rising on the Fed's Rate Hike
How the Fed's interest rate hike affects the bond market
The Fed's increase in the federal funds interest rate on March 15 will likely have a number of notable outcomes, and one of the most important involves the effect on the bond market. The US economy has been heating up, with improved economic activity and rising inflation. But the rate hike is expected to negatively impact the US bond market (IEF) (VGLT). We'll examine the impact below.
As bond yields go up, bond prices fall, as there is an inverse relationship between the federal funds interest rate and bond prices. The yield on the ten-year Treasury note and the 30-year Treasury bond, for example, dropped ~2.5% and 3.1%, respectively, on March 15, 2017. The yield on the two-year note fell to 1.312% the same day.
Article continues below advertisement
Bonds usually underperform after any rise in interest rates because new debt securities come with higher interest rates, which makes old debt securities unfavorable. As the chart above shows, Vanguard Total Bond Market ETF (BND) has been in continuous decline since the third quarter of 2016. The market has likely absorbed the expectation of these interest rate hikes since 3Q16.
Insulation
However, the bond market can still provide investors with the opportunity to insulate themselves from rising interest rates. There are a number of choices available to investors for protection through hedged ETFs and senior bank loan ETFs. Short-term corporate bond ETFs can also provide high yields in a changing interest rate environment. Such ETFs include the SPDR Barclays Short Term Corp Bond ETF (SCPB) and the Guggenheim Enhanced Short Duration ETF (GSY), and the top allocations in these funds include Bank of America (BAC), Anheuser-Busch Inbev (BUD), GE Capital (GE), and JPMorgan Chase (JP).
You can read more about bond investing in Market Realist's series Finding Investment Opportunities: Higher Interest Rate Scenario.
Continue to the next part of this series for a look at the impact of the rate hike on the US dollar.