Bull Market: Expected for Gold, Not for Bonds
Long-Term Outlook Remains Positive for Gold Bull Market Our view on the long-term gold price is unchanged. We see the recent weakness as a consolidation phase within what we believe is the early stages of the next bull market for gold. We continue to believe dislocations created by the unconventional policies being implemented by central […]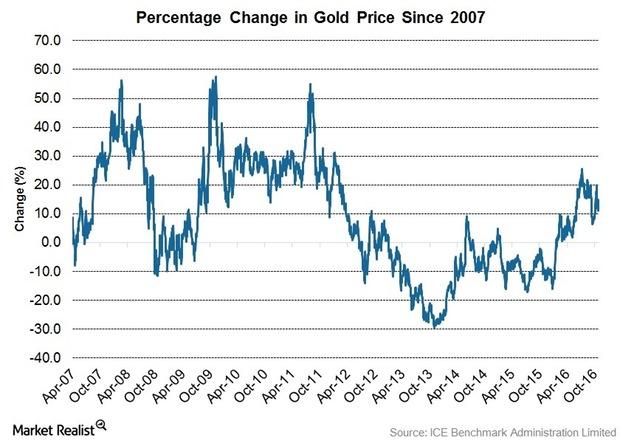 Long-Term Outlook Remains Positive for Gold Bull Market
Our view on the long-term gold price is unchanged. We see the recent weakness as a consolidation phase within what we believe is the early stages of the next bull market for gold. We continue to believe dislocations created by the unconventional policies being implemented by central banks around the world are likely to increase global financial risks. We believe that investors will continue to be driven to gold as a safe haven given the further loss of confidence in central banks on a global scale and perhaps domestically, and the uncertainty following Trump's presidential victory[9. Safe haven is an investment that is expected to retain its value or even increase its value in times of market turbulence.].
Article continues below advertisement
Article continues below advertisement
Market Realist – Losing faith in central banks
Markets have been volatile in the past few weeks due to growing uncertainty of the outcome of the US elections. With Trump's victory, a lot of the implications of his policies have been priced into the market. Additionally, recent events, such as India's demonetization (EPI) (PIN), have revived investors' interest in gold as a safe-haven asset.
As most investors have lost confidence in central banks around the globe (ACWI) (VEU), they do not consider bonds (BND) (HYG) (JNK) or currencies as safe assets. As discussed earlier, gold prices are heavily impacted by the US dollar (UUP) and inflation. It remains to be seen whether the Fed can remain ahead of the yield curve and strike the correct balance.
As long as inflation rises faster than interest rates, gold will continue to perform well. Moreover, the long bull market for bonds seems to be flattening and is expected to begin a bear trend, forcing investors to flee to safe assets such gold. An appreciated dollar and speculation around Trump's new policies may result in short-to-medium-term volatility (VXX) (XIV). However, the recent correction in gold prices is a good opportunity for investors to enter the asset, as the long-term outlook on gold prices is bullish.