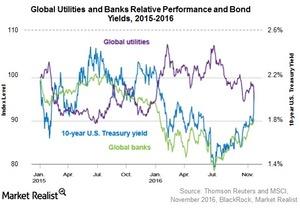 Which Assets Find Support in a Reflationary Environment?
Blackrock
Reflationary environments—characterized by stronger nominal economic growth—tend to help boost assets such as commodities and value stocks and hurt many perceived safe havens. See the recent rise in the 10-year U.S. Treasury yield (bond prices and yields move in opposite directions) in the chart below, as well as the underperformance of bond-proxy utilities versus the outperformance of cyclical banks.
Article continues below advertisement
Market Realist
Which assets look optimistic in this environment?
In the current scenario, where the inverse relationship between stock and bond prices has changed, any rise in long-term yields could affect stock prices (IWD) (IWF). So the chances of obtaining diversification benefits with a traditional stock and bond portfolio look minimal now. We discussed this change in our series Where Should Investors Seek Income Now?
The focus can now shift to the assets that are more cyclical, like financials (XLF) (IYF), utilities (XLU) (IGF), and dividend growers. Dividend-growing companies—or, in other words, dividend growers (HDV)—are quality companies with enough free cash flow to continue paying a stable dividend in times of market volatility, and they can also increase dividends substantially over time.
The chart above shows the performance of the global financial and utilities sector and the ten-year Treasury yield. The relative performance of global banks and utilities is represented by dividing the MSCI World Utilities and Banks indices by the MSCI World Index and rebasing them to 100 at the start of 2015 (source: BlackRock)
Utilities and financials could benefit from Trump's administration, as we'll discuss later in this series. Financials could recover from their losses if Trump decides to pursue the plan outlined in his campaign policies. This sector has already grown 6% since the election, with utilities rising 1% and consumer staples falling 1%. The US stock market (SPY) has risen 6% since election day.
In the next part of this series, we'll discuss how the election results fuel reflationary trends.