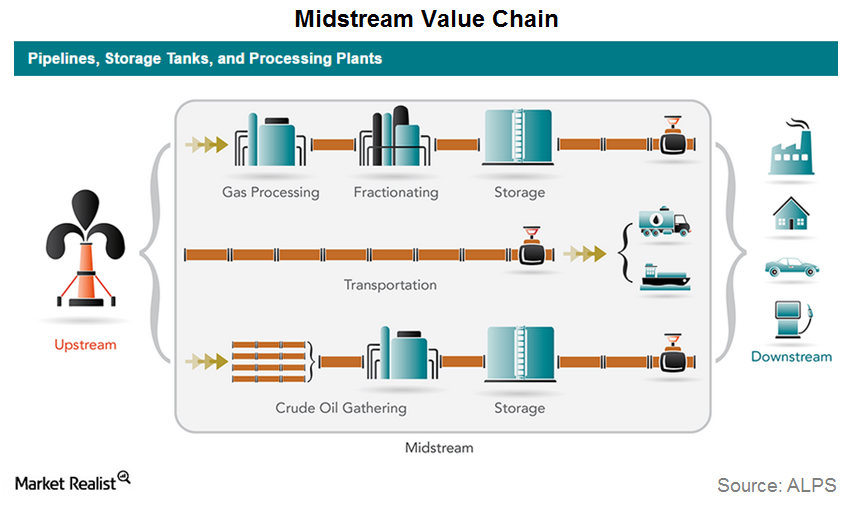 A Look at the Midstream Energy Value Chain
Natural gas pipeline MLPs 
Natural gas pipeline MLPs operate long-haul pipelines that are used for the interstate and intrastate transportation of natural gas to local distribution companies, storage, power utilities, and other pipelines. One such example is the Transco Pipeline, one of the largest US natural gas pipeline networks, which is owned by Williams Partners (WPZ).
Article continues below advertisement
Liquids pipelines and terminaling
Liquids pipelines and terminaling MLPs, as the name suggests, are involved in crude oil, refined product, and NGLs (natural gas liquids) transportation and storage. Plains All American Pipeline (PAA) and Sunoco Logistics Partners (SXL) are two of the largest US liquids pipelines and terminaling operators.
Liquids pipelines and terminaling saw one of the highest median YoY (year-over-year) distribution growths last quarter. We'll look at this performance further in a later article.
Natural gas and NGLs infrastructure
Natural gas and NGLs (natural gas liquids) MLPs are involved in natural gas gathering, processing, and compression and NGLs fractionation. Natural gas recovered from a wellhead must be processed in order to meet specifications before it can be delivered for final use.
In addition to natural gas, processing produces mixed NGLs. They're separated through fractionation. These types of MLPs, including DCP Midstream Partners (DPM) and EnLink Midstream Partners (ENLK), have maximum exposure to commodity prices through non-fee-based agreements. We'll look more into this in the next article.
Diversified midstream