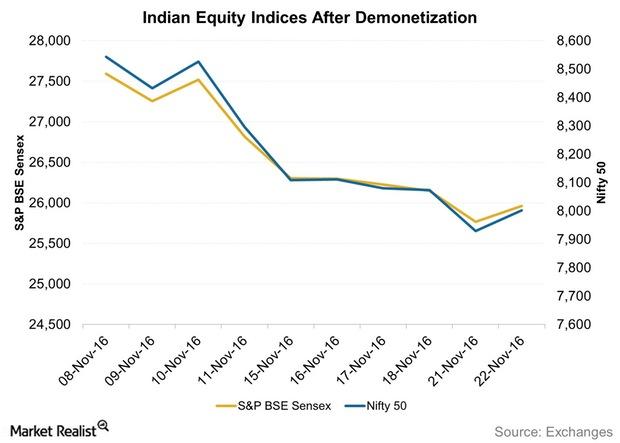 India's Financial Markets Fell Due to Demonetization
By David Ashworth

Nov. 23 2016, Updated 11:04 a.m. ET
Equities fall, but prospects are better
Indian equity markets have been on a near secular falling trend since the government demonetized the 500 rupee and 1,000 rupee currency notes after midnight on November 8, 2016. The two benchmark equity indices—the Nifty 50 and the S&P BSE Sensex—fell on each trading day since the demonetization except for November 10 and November 22. While the Nifty 50 fell 6.3% from November 8 until November 22, the S&P BSE Sensex fell 5.9% during the same period. Due to the rise in the US dollar, the dollar equivalents of the Sensex and the Nifty fell more than 8% each.
Article continues below advertisement
The S&P BSE 100 Index, which is comprised of 100 stocks compared to the Sensex's 30, fell 6.6% during this period. Mid and small-cap indices have been hit much harder than broader market indices. Even after a rise on November 22, the S&P BSE MidCap and the S&P BSE SmallCap indices fell 8.2% and 10.9%, respectively, in the previously mentioned period.
Apart from concerns about demonetization, Donald Trump's victory and concerns about his restrictive trade philosophy led to foreign investors pulling out of Indian equities. According to Bloomberg, foreign investors have net sold Indian equities (PIN) (INDA) worth $1.4 billion from November 9–17.
However, once the short-term impact of demonetization is over, Indian equities will likely bounce back sharply. A rate cut from the Reserve Bank of India would be helpful and easy monetary conditions are generally beneficial for equities. Consumption-driven sectors and stocks (TTM) (VEDL) will continue to be hit in the short term.
Indian rupee fell
The Indian rupee fell against the US dollar. It mainly fell due to Donald Trump's victory in the US presidential election. Given the pressure on the local unit and its relative stability, it seems like the Reserve Bank of India has been working hard to keep the currency stable.
India's tech companies (INFY) (WIT) saw a sharp correction since the demonetization was announced. However, the rupee's weakness can benefit these stocks. For now, Donald Trump's trade philosophy will be the main driver of the Indian unit.