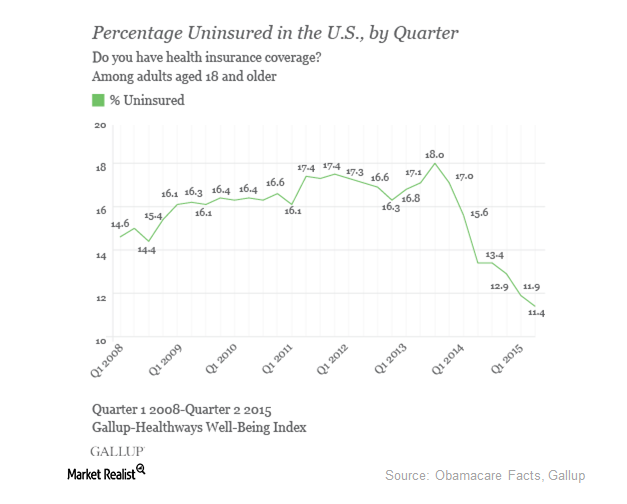 How Could Trump's Presidency Affect Hospitals and Insurance?
The effects of repealing Obamacare
Donald Trump is definitely not in favor of the Affordable Care Act, known as Obamacare. As he wants to repeal the act completely and replace it with another policy, the hospital sector fell on November 9, the day after the election. Trump believes that providing healthcare facilities to illegal immigrants costs US $11 billion annually—one reason he has proposed deporting illegal immigrants.
On November 9, HCA Holdings (HCA), LifePoint Health (LPNT), Universal Health Services (UHS), and Community Health Systems (CYH) lost 11%, 13.5%, 6.9% and 22%, respectively. The First Trust Health Care AlphaDEX ETF (FXH), a major hospital-oriented ETF, rose to $57.66 on November 10 from $56.95 on November 8. The fund's biotechnology and pharmaceutical holdings may have offset the fall in the hospital sector.
Article continues below advertisement
More people being insured helped hospitals
President Barack Obama enacted the Affordable Care Act on March 23, 2010. The objective behind the act was to increase health insurance coverage and its affordability for Americans. With the implementation of Obamacare, the percentage of uninsured people in the United States fell to 11.4% in 1Q15 from 14.6% in 1Q08. Having millions of additional people covered granted the opportunity to serve more people, resulting in fewer unpaid bills for hospitals and healthcare service providers, which was favorable for the industry.
Mixed impact on insurers
Although repealing Obamacare means that those covered by it might lose their insurance, this is still unclear—there could also be an expansion of Medicaid. Insurance stocks' reactions to this uncertainty were mixed. On November 9, UnitedHealth Group (UNH), one of the largest insurance companies, fell 0.7%. In contrast, peers Cigna (CI) and Humana (HUM) rose 5.5% and 3.9%, respectively.